Rascals, Ruffians, and Rebels:Profies from Early Montana by Gary R. Forney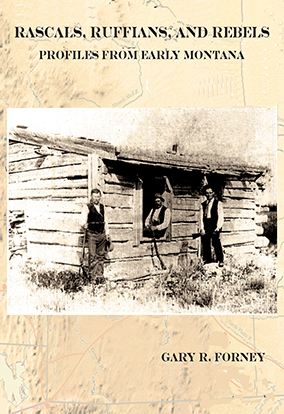 Released July 15, 2020, we ran out and reordered in August, 2020. We also extended the introductory price for the second printing. Montana has been blessed with incredible natural beauty, bountiful resources, and daring men and women: pioneers who dared to make this place their home. By 1863, there was a rapidly spreading awareness of rich discoveries of gold in what would become a part of the Montana Territory. This news became the primary impetus for the first major wave of immigration into the area. The disruptive economic, social, and cultural impact of the Civil War brought those who had been merchants, farmers, school teachers, lawyers and many other occupations in search of a new beginning. Montana's gold and untamed land became a magnet for people from not only the Northern and Southern states of American, but from dozens of countries. Montana became a collision point of people with different political beliefs, different social and cultural customs, and different languages, but all with a common dream. By presenting a balanced and accurate profile of the lives of some famous, some infamous, and some barely known men and women, the author seeks to preserve the stories of how an eclectic cross-section of men and women pursued their dream of a better life in early Montana. Each of the lives of these men and women are significant in term of what they did-for better or for worse-to shape and define the structure and character of Montana.While not each of the twelve individuals from early Montana history included in this book is necessarily worthy of emulation, they do represent examples of the generation that would create the trails which have become the highways we travel. They built Montana's first schools, churches, farms, ranches, mines and businesses. They would establish law and civil order, and lay the foundations of our state government. Every day, their lives touch those of us who call Montana home. We stand upon their shoulders.
"Forney brings to life some of Montana Territory's more infamous characters and sheds light on some lesser known originals who called Montana home. If you like stories about women and men of grit, with motives both pure and evil, you will find someone to love or hate between these pages…Forney's passion for Montana history is evident in every page."
"Rascals, Ruffians, and Rebels transports readers back in time to explore Montana's rough, dangerous and chaotic early history. … Gary Forney's meticulous research brings vibrant, history-shaping Montana men and women to life. Highly recommended reading for all lovers of Montana history." Rachel Philips, author of Legendary Locals of Bozeman and Research Coordinator at the Gallatin History Museum in Bozeman

"Gary Forney juxtaposes the eclectic profiles of twelve unique men and women—some admirable, some contemptible, all fascinating—who helped shaped Montana's early history. Forney crafts these profiles with impressive detail and exhaustive scholarship, helping readers more clearly understand some of the distinct personalities and events at the heart of many of Montana's formative moments."
"With in-depth research and a subtle wit, Gary gives us a sense of what life in early Montana was really like. Through the well-told stories of twelve "noteworthy" and very different individuals, we learn how they contributed to the basis and character of Montana.… Everyone in Montana should read this informative and enjoyable book."

"None of the twelve individuals described in Rascals, Ruffians, and Rebels were villains, none were saints. But they were people who were there when the great State of Montana began to take shape out of the chaos of the mining camps. And Forney tells their stories with verve in a clear, direct, engaging prose. Once I began reading, one history led to another, and I could not put it down." Lee Robison, Former President, Madison Valley History Association

The title of this interesting book is an accurate summation of Gary Forney's coverage and presentation of a dozen biographies from the 1800s in Montana history. The reasons for his choices for inclusion and how they fit together are well detailed in his introduction. In wide ranging and readable style, personal details, facts, accomplishments (of all sorts), and even myths about these "characters" bring a lively history to readers. This book will add well to Forney's impressive body of work.

Editions:
2020 Ebook ISBN: 9781937849641
$6.99
2020 Paperback 232 pages ISBN: 9781937849634
$16.00