PRISM by Joan Bochmann by Janet Muirhead Hill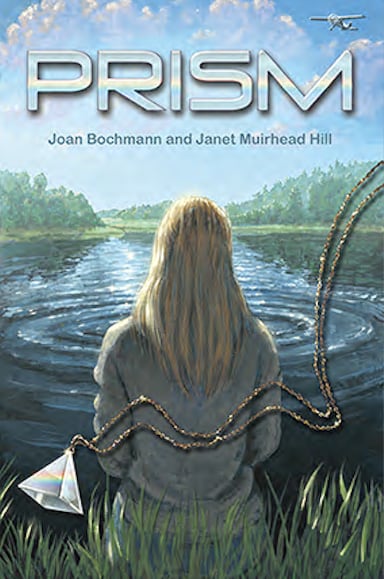 NOW available in both print and electronic editions. Debra Randall, the lovely and talented heiress of the "richest man in California" is missing. The detective of the San Francisco police department still isn't close to solving the mystery after two weeks of investigating the case. The three most important men in her life seem to be withholding information that might help. Her father is tight lipped about what happened to Debra's mother years ago. Her best friend with whom she grew up is sworn to keep the secret of the spells she calls "feelings." Her boyfriend believes that revealing what he knows about a threat from an enemy would only further endanger her life—if she is still living. Could Debra's cherished pyramid-shaped prism hold the clue? Cover art by Herb Leonhard.
PRISM is a gripping story of searching and longing—both the physical search for Debra Randall, the missing daughter of the richest man in California, and the emotional search for the key to unlock the Randall family secrets. These two storylines braid together throughout the book as Debra's boyfriend, Blake, her best friend, Paul, and her distant father, Josh, set out to find out what happened to her, embarking on a twisting, turning search for clues from Canada to Mexico. Does her disappearance involve her work helping draft dodgers escape the Vietnam War? Is it related to her trance-like "spells" or the violent drug dealer she gets mixed up with? Or might one of the three men in her life be responsible for her disappearance? The puzzle pieces include hermits and New Age cults, love triangles and torture chambers, with plenty of danger lurking at every hairpin turn. A good mystery keeps us guessing, and PRISM keeps us guessing until we reach the satisfying end.



Memories, murder, and mystery woven into a tangled web of stories within a story. Unusual and intriguing.

This intriguing missing-persons story contains many elements beyond the mystery. PRISM has an intricate plot, and presents complex family dynamics with its well-defined characters. Strong writing!


This fine novel is interesting on several different levels: a riveting crime case, a view of history of the troubled Vietnam War era, military draft policies, and effects as viewed from two generations. It's an intricate puzzle and story of a missing person case and an example of how mental health crises can impact families and friends; and it's a touching love story.
The most affecting element, though, is that this book is a collaboration between two sister-authors. Janet Muirhead Hill's readable and involving writing combines with the plot, characters, and unfinished manuscript of her beloved late sister, Joan Bochmann.
All writers and readers know that this task of finishing a book requires imagination, skill, insight, and love. This good book, PRISM, accomplishes that admirable task and honors both of the sister-writers.


Debra Randall is gone. Her father, her boyfriend, her best friend—all men who love her, each in their own way—are devastated. Has she only run away or has something much more dire befallen her? From California to Texas to Colorado to Canada, the search goes on. Detective Patrick Garrigan investigates every facet, certain that each of the men in Ms. Randall's life know something that they aren't telling, that they are withholding secrets and for each of them it is personal and unique, each secret holding an important key…On top of that, what is it about the necklace that he's told she wears, a chunk of glass shaped like a prism that seems to send her into a trance or hypnotic state? So many questions that take him and the men in her life on a journey that weren't expecting.
When Debra Randall goes missing, the three men closest to her give less than satisfying answers to the San Francisco detective's questions. Her father, a wealthy airplane manufacturer, shows impatience. Her life-long friend Paul, a co-worker at the city's newspaper, doesn't mention that the prism Debra often wears isn't among the jewelry left behind in her apartment. Blake, who calls himself 'just a friend,' tries to hide emotions that suggest he's much closer than that. He and Debra are pilots.
"The story opens in February 1972, with characters' back stories carefully woven in. Author Janet Muirhead Hill, best known for her children's and young-adult books, honored her sister, Joan Bochmann's request to complete this story after Joan's death.
Editions:
2020 ebook ISBN: 9781937849665
$8.00
2020 Paperback 264 pages ISBN: 978-1-937849-65-8
$16.00