Starlight, Star Bright (Book 3) by Janet Muirhead Hill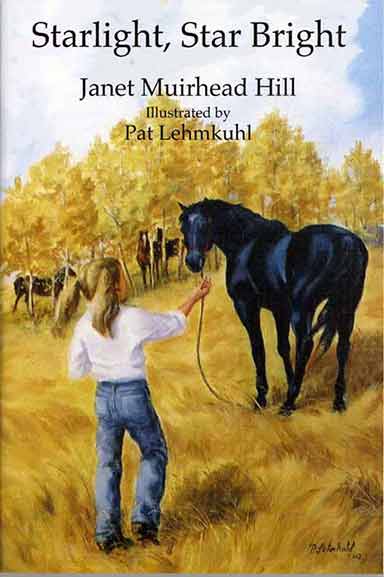 The third book in the series about a young Montana girl and the black stallion she wants to call her own. Eleven-year-old Miranda Stevens is in love with a horse that belongs to grouchy Mr. Taylor, owner of Shady Hills Horse Ranch. She nurses him back to health after an injury to his leg nearly ended his life in book one. It hardly looks hopeful that Mr. Taylor will ever allow her to buy Starlight, no matter how hard she works, but at least Mr. Taylor is letting her care for him—and secretly ride him, when no one else ever has.
5 STARS!

This is the third book in a series about young Miranda Stevens and Starlight. Starlight is a two or three year old black stallion that has recently healed from serious leg wounds. Miranda wants nothing more than to own Starlight. It would ensure that the current owner, Mr. Taylor, would not someday part her from the beloved horse. Unfortunately, Starlight is so well recovered that Mr. Taylor is sure the horse can race. He has Adam, his trainer, begin training Starlight. However, Adam is mean to the horse so Starlight keeps bucking him off. Adam believes Miranda is spoiling the horse and keeps taking his anger out, verbally, on her. He refuses to believe Miranda could tell him anything that would aid him in training Starlight.

Unknown to most, Miranda had been working with Starlight already. The horse was fully trained and ready to race. But Starlight's heart belonged to young Miranda, who seems to have a natural talent when it comes to handling horses.

***** Very little is mentioned about school or classmates in the book this time. The author focuses more on dealing with the problems of racism. Racism is a very sensitive issue in the world today and Janet Muirhead Hill does an excellent job in showing that skin color does not matter. In fact, the author the shows how petty it makes many adults seem. As in the previous book, Adam and Miranda continue to clash. I believe the author is foreshadowing the next book with this situation.
The book is perfect for anyone age eight or up who loves horses. It is clearly written out in a way young readers can easily understand and relate to. This is one exceptional series! *****

HUNTRESS REVIEWS (Reviewed by Detra Fitch.)

Posted: http://www.huntressreviews.com/allkids.htm


This fall I got really sick with a serious virus and shingles and I had to stay out of school for two months. Prima and reading and writing stories were the only thing that kept me going at times when I felt so down. That was also the time when I learned about your books from my friend's little sister Miranda Ashland. I loved your books because I always read all horse stories but yours were better than most. Your series was more sophisticated (both in writing and in character development) than most. I liked specifically how you give the Miranda and the characters challenges that don't have very obvious solutions. Its more like real life, not all tied up in bow. It makes me want to keep reading them and I think they will make a very good movie.
—Celeste Maisel, Age 13, Saratoga, CA

I got the book Starlight, Star Bright. It is my favorite so far. My brother hates horses, but Loves your books, so I think you made a great accomplishment. I want you to write ten billion books. I did a report on Miranda and Starlight and got an A+. Thank you sooooooo much for the books. I'm looking forward to reading your future books. — Jessica Wilson, age 9, Massachusettes


KIC.com reviews, March 2005, by Somer Robb
 Ms. Hill has written another wonderful installment to her series. Starlight, Star Bright brings new adventures and heartaches to Miranda Stevens that keeps you turning the page and wondering what will happen next. These fast paced, adventure-packed books gets better with each installment. With true to life characters and beautiful illustrations, Starlight, Star Bright is one of the best young adult books on the market today.—KeepItComing.com
HILL, Janet Muirhead, Starlight, Star Bright. Illus. by Pat Lehmkuhl. 190 p. (Starlight Series) Raven, 2003 pap. $9.
ISBN 0-0714161-2-5 LC 2002095008
Gr. 4-6 - In this third book in the series, Miranda Stevens, 11, having bonded with the injured stallion she nursed back to health, is determined to train and someday own this horse she loves. Through a series of episodic events, she proves her talent in working with Starlight, a thoroughbred training for the racetrack, but must struggle against the prejudice of adults who don't believe in her abilities. Libraries that see heavy circulation of "Saddle club" Series (Bantam) or that have a following for the previous books will want to consider this one, others can safely skip it. - Lisa Falk, Los Angeles Public Library.

Editions: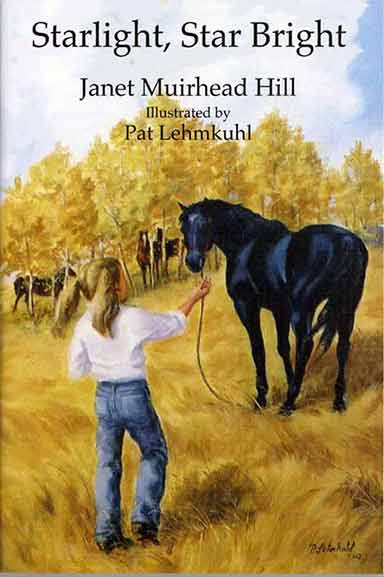 2010 Electronic ISBN: 9780982089361
$6.00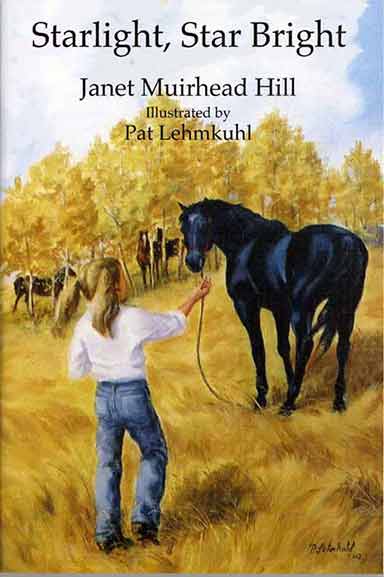 2003 Paperback 190 pages ISBN: 9780971416123
$12.00