Hollowtop Smoke Signals by Art Kehler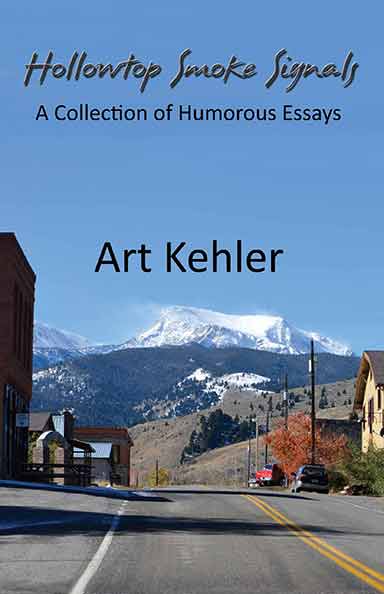 A compilation of humorous essay that depict life in small town, Montana. The author pokes fun at the residents, the wildlife, the tourists, and mostly at himself in these rollicking stories that paint a clear picture of what it's like to live and laugh in the rural areas of this great state. In an age of political controversy, chaos, and negative news, Art gives us a refreshing look at small-town antics and a chance to laugh at ourselves as we relate to our shared human condition with his often self-deprecating humor. The author has been compared to James Thurber, Mark Twain, and other humorists as he writes about his experiences in the tri-cities of Pony, Harrison, and Norris whose combined population is fewer than 500 people. Are his true stories slightly embellished? You be the judge as you treat yourself to some health-producing belly laughs.
Art Kehler's stories about small town Montana are not just hilarious, they capture the best and worst of the spirit of a very complicated place. This collection takes you right down Main Street. — Russell Rowland, author of Fifty-Six Counties: A Montana Journey, In Open Places, The Watershed Years, High and Inside, and more
Montana Arts Council
State of the Arts • Summer 2018 edition
About books
Hollowtop Smoke Signals
A Collection of Humorous Essays
By Art Kehler
Friends, you have your holiday gift list options handled! Hollowtop Smoke Signals works for everyone from great aunts to ministers to longtime friends who already have everything they need. Author Art Kehler is literate, humorous and philosophical. This collection is pure gold – or maybe some other metal – but very precious. He offers 83 short insights, memories, or ponderings for our reading pleasure. Some are laugh-out-loud, others bring a rueful smile. Gulp it down or return for small tastes, like tapas provided by a superb chef.
The bard of the Tri-Cities (Norris, Pony and his own town, Harrison) first visited Montana when he was 7 and eventually returned to stay, working at whatever he could to remain, make a living and become one of the old timers himself. En route, he masters the lingo ("when greeting an area resident, the proper term was 'Howdy,' not 'Yo'), navigates local phone listings comprised of just four pages (or deploys the trusty "backyard bellow"), and learns how to preserve hair-dos in the omnipresent wind ("I advocate purchasing a tight-fitting hat, preferably one with a chinstrap"). He offers lots of advice for other outdoor adventures, cautions for civility, and plenty about how to survive and thrive in the weather or on the roads. Although this is not an autobiography, there are enough references to his four decades of living in Harrison to authenticate his rightful place as a Montana storyteller. Thankfully, author Kehler continues to live and write in Harrison, population 137. His collection is published by Raven Publishing in Norris.


After several years of gentle persuasion (aka "nagging") I'm very pleased that Art Kehler has finally put a collection of his wonderful essays together. From the first time I heard him read one of his works I was impressed by his writing, beautiful imagery, and self-deprecating sense of humor.
Art is a gifted story-teller. Whether he's writing of snake hunting, adventures in the Tri-cities, or making improvements to the English language, one finds in each story his wit, humor, and—just a wee bit beneath the surface—a gem of wisdom. I suspect Art's hesitation in bringing this work together may have been some combination of his genuine modesty and his earnest, painstaking quest for perfection. I think you'll agree that Hollowtop Smoke Signals was worth the wait.
Sometimes, it seems the so-called civilized world is flying off the rails and half it's people gone crazy. Those times, it feels great to live in the country, where it's easy to forget the high-speed craziness of big cities and the problems plaguing the world.
"For anyone suffering from the tribulations about global calamities, or for anyone who just wants to feel good, I've found the perfect prescription. It's Art Kehler's Hollowtop Smoke Signals: a collection of Humorous Essays.…"Art's essays take you down home to the 'tri-cities' of Harrison, Pony and Norris, Montana, (combined populations,382), where he describes the charms, challenges and various misadventures of living in such a rustic but beautiful place nestled on the northeastern fringe of the Tobacco Root Mountains.…
Art's essays include a harrowing tale of a climb to the top of Hollowtop Mountain, for which the book is named. Stop worrying, relax and pick up Art's book. You'll get lots of laughs and that's the best medicine you can find.

In one of the resonant essays of humorist and thinker, Art Kehler, there is a quote describing discussion of small town traditions and citizens. 'I know you, you're one of us.' Readers of the delightful Hollowtop Smoke Signals, be they rural or urban, will indeed be 'one' with this corner of Montana (the Tri-Cities of Harrison, Pony, and Norris—total population less than 400), the place, and the people. Along the way, life's quirks, pleasures, and perils, as well as some hidden gems of beautiful descriptions of Montana, are told in witty, entertaining, and often insightful writing. In the tradition of Mark Twain, James Thurber, Bill Bryson, and Garrison Keillor, Montana has it's own chronicler: Art Kehler. Great reading!

Editions: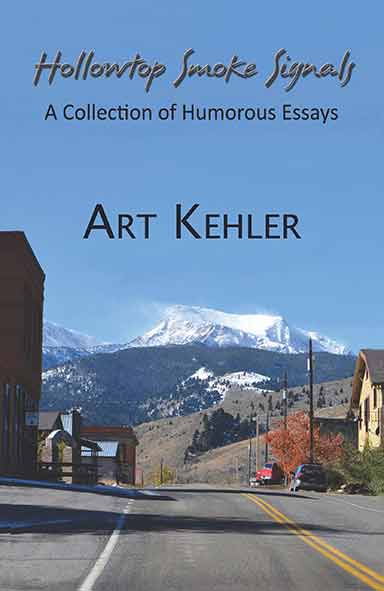 2018 ebook ISBN: 978-1-937849-48-1
$3.99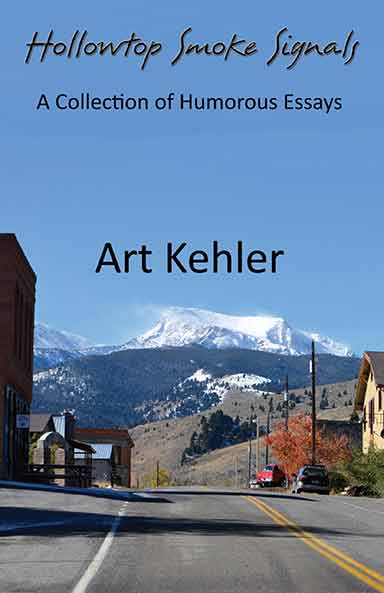 2018 Paperback 220 pages ISBN: 978-1-937849-47-4
$14.00