Horses Forever: A Miranda and Starlight Story (Book 9) by Janet Muirhead Hill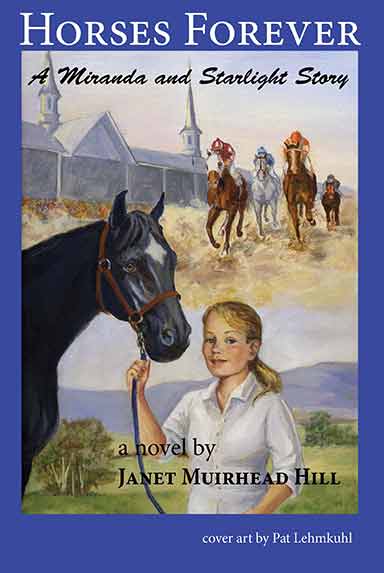 Miranda graduates high school and, under Higgin's guidance and with Christopher's support, prepares a filly for entry in the Kentucky Derby. Caught up in the thrill of the horseracing world and the wonder of the talent of Starlight's offspring, Miranda focuses on winning. As she becomes an intimate part of it all, she gains inside information of abuse and mistreatment of some racehorses. When all is going well, and she's on her way to a Triple Crown victory, she must make a decision between the glory of the win and the well-being of the filly in her care. Such decisions, she learns, do not come with black and white, one-size-fits-all answers.
In the final installment of the Miranda and Starlight saga, the young euestrian considers a difficult question: "to race or not to race?"

The previous eight books have taken the heroine on a journey from preteen to 17. Covering the next four years, Miranda Stevens learns some hard lessons about love, life, horse racing and horse rescuing.

Miranda says, "I eat, sleep, and breathe horses."

This authentic work will satisfy the most finicky of horse lovers, and is sure to be gobbled up by young people, especially girls who either have a horse or want one. The author dedicates her later "to all who know the heart of a horse."

Hill, who lilves in Norris, has written 14 noves for children and young adults. — LK Willis
The final installment of Miranda and Starlight will not disappoint! You will laugh, cry, and ride along neck and neck with Miranda, Chris and Mr. Higgins, from the Kentucky Derby to an unforgettable trip overseas.



Horse stories, unlike the metastasizing of cancer chick-lit romances, teen dystopias, and a thousand facsimile variations of the omnipotent occult love triangle, endure in their gentle adventures; Janet Muirhead Hill's, in particular, flow with equal measures of domestic landscaping and conflict relevant to today's cultural climate. Hill's finale is idyllic without falling out of touch with what it means to exist as an adolescent.
Miranda's awkwardness with her boyfriend's parents, her quick temper and quick wits, her ultimate decision and drive to help others in either similar or separate situations to herself all fill her body with breath, animate her ambitions. Miranda is the teen protagonist many young people subconsciously crave which I, as a product of the nineties tail end, can confirm. As someone quite familiar with pieces from Janet Muirhead Hill, I have to say that the Miranda series outsoars other works in its authenticity. Hill has lovingly stitched a protagonist from gossamer and barbed wire, and it works.
-Laura Ingram, Moledro Magazine's Teen Poet, young author of poetry and prose.

Horses Forever, a treat for horse lovers everywhere, sees the return of Miranda, Starlight, and friends in the conclusion of this charming story. From the moment I opened the cover I was pulled back into Miranda's life as she started her journey into adulthood. As Starlight's descendants move on to become champions and Miranda and Chris' relationship flourishes, I was reminded of the early series and their childhoods together. Overwhelmed with a sense of nostalgia, I found myself unable to put the book down as my attention was completely captivated. I breathed a sigh of contentment as I read the last page and closed the cover. Janet has once again successfully produced a delightful novel; an endearing completion to a favorite childhood series.
Editions: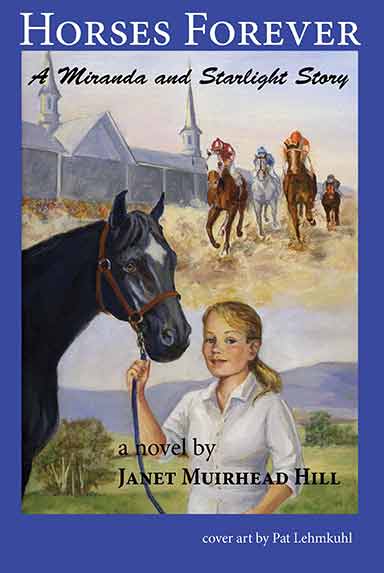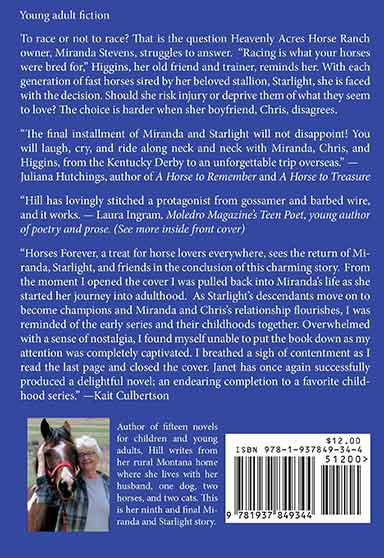 2017 ebook ISBN: 9781937849351
$3.99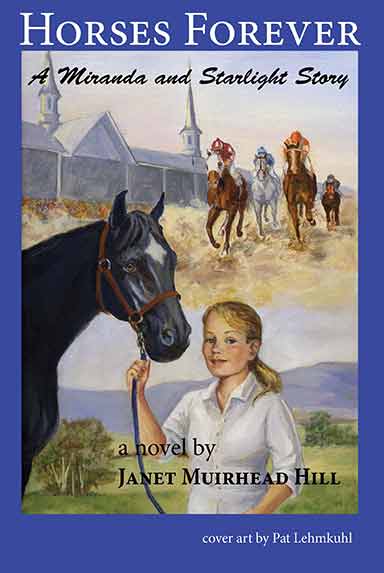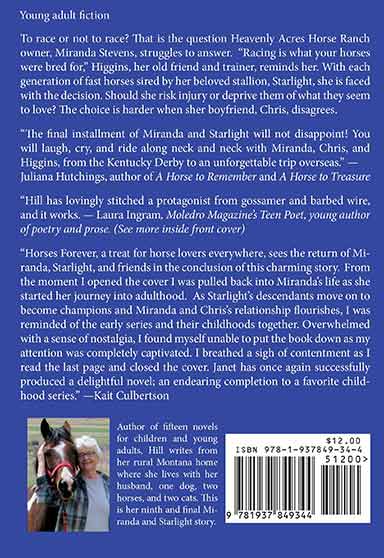 2017 Paperback ISBN: 978-1-937849-34-4
$12.00