Starlight's Courage (Miranda and Starlight Book two) by Janet Muirhead Hill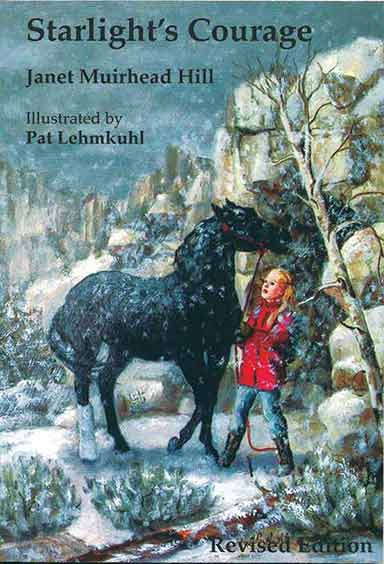 In this exciting sequel to Miranda and Starlight, both the girl and the horse, an injured two-year-old stallion, are called upon to exhibit loyalty, courage, and endurance.Thinking that Starlight's owner is determined to have him put down, Miranda takes matters into her own hands to save him. A fierce competition with classmate rivals at the Montana Winter Fair ends when a madman seeks revenge against Miranda and her horse. For the rest of the summer, until Sept 1, we are selling each of the first six books of the series for the same price as the special we're offering at or summer events, plus shipping. Now only $5.00!
Janet Hill writes a rare novel of the upheavals in a young girl's life, capturing the essence of American know how. This is the sequel to her first, high spirited novel, Miranda and Starlight. Everything seems to be happening to young Miranda. There's taking care of Starlight, the two-year-old stallion who's been injured, consigned to be killed, but saved and nursed by Miranda. There's the three things she wants: (1) a horse of her own , (2) a best friend, (3) to have a regular family. Starlight is her horse, and the rest works itself out in this novel of everyday life of a tough, no-nonsense kid like Miranda, who's always getting into scrapes. There's a special stranger named Adam. Her single mom lives and works elsewhere. Miranda mainly lavishes her emotions and her care on the recuperating horse: "You beautiful boy, Starlight, you're getting better! I missed you so much." Snowstorms, fights with girls, misunderstandings, and Miranda always wanting to be loved by her mom (who gives her the wrong sort of presents) and her dead father. And there's also a shadowy man endangering Starlight and Miranda. And riding in the Winter Fair. Illustrator Pat Lehmkuhl's drawings capture the small girl and the big horse and there camaraderie. The plotting exerts a sure grip, and author Hill creates an exquisitely complete picture of a young girl's coming of age. --
The Book Reader, America's Most Independent Review of New Titles

"This book successfully invites the reader to become a part of the story. It's as if you are really there, as a witness, to the variety of experiences described throughout the book. A real page turner." -- Carolyn A. Garber, President, Carroll County (Maryland) Equestrian Council
Pre-teen girls with equine leanings will certainly enjoy this, Hill's rousing sequel to the first book in her series (Miranda and Starlight), a great standalone read, suitable too for discussion group use at the fifth grade level. In this outing, Miranda is lucky enough to be able to care for her dream horse, a rewarding task that also carries its rightful share of accompanying responsibility. In this case, some very naughty classmates provide the darkside obstacles, and of course it's up to Miranda and Starlight — and a healthy dose of courage summoned by both — to defeat the evil doers

-- www.thebooxreview.com/featuredchildrensreviews.htm

"Miranda, Chris & Laurie are getting ready to ride Chris's horse, Queen in the big riding competition, when they find themselves faced with the rude remarks and hostilities from their classmates, The Magnificent Four." All the while, someone has much worse than words in mind for Starlight.
  Starlight's Courage, by Janet Muirhead Hill, is a must read for any young lady who loves horses. Though it is the second book in the Starlight series, Starlight's Courage is a great read on it's own. Hill successfully tackles serious issues facing today's youth in a comfortable manner making the book not only entertaining, but also educational.
  Don't miss Starlight's Courage or Hill's next book in the series, Starlight, Star Bright, due out in the spring. 
Sterling Pearce / GWN Reviewer
gspearce@charter.net

Heartland Reviews, 410 Delaware, Leavenworth, KS 66048

An involving and highly recommended novel, December 14, 2002
Miranda Stevens has two best friends named Laurie Langley and Christopher Bergman. Their adventures continue in this second book of the series.

Miranda still loves and cares for Starlight, an injured two year old stallion. While a caretaker is recovering from a fall a temporary hand is hired. Yet the man is cruel to Starlight. Miranda must show courage as she deals with the threat to her beloved horse. In doing so, Miranda and Starlight make an enemy of him and he is out for revenge!

Meanwhile, Miranda and her two friends ride Chris's horse, Queen, in a fierce competition against some of their rude classmates. Chris has come a long way in his riding abilities, thanks to Miranda. His lessons continue with the help of a new trainer, Adam Barber. Problem is that Adam treats everyone kindly except Miranda. The reason brings a new twist to this awesome series!

***** Once again the author's talent shines through! Young readers will be stuck on this book as tightly as Super Glue! Danger, loyalty, courage, and competition blend together to make this breathtaking tale a winner! Highly recommended! *****

HUNTRESS REVIEWS (Reviewed by Detra Fitch)

The intrepid heroine, Miranda, returns in Starlight's Courage by Janet Muirhead Hill, the second adventure of a youngster farmed out with her grandparents while her mother pursues an acting career revolves around issues pertinent to horse-lovers of all ages. Miranda doesn't recognize personal limits——especially when it comes to horses­——and this provides Hill with plenty of material for her latest plot.
Having made dubious peace with Mr. Taylor, the craggy owner of Shady Hills Horse Ranch, Miranda continues to shower love and care on his injured colt, Starlight. She also works with best friends Laurie and Chris, owner of Queen to enter the big horse show. When right-hand man Higgins get laid up with a fracture, Miranda steps in. She deals with barn chores, racist classmates, and bruising personal disappointment. She learns who her father was and discovers her own worth in terms of courage when she thwarts a senseless act of revenge. But in this Starlight work, thing have a way of working out rather brilliantly for Miranda and friends.
Another easy read for the 12 and under crowd, plus a good choice for parent to read aloud.
-- Lauren Giannini, In and Around Horse Country

Starlight's Courage is simply a wonderful book. The story is heartwarming and so packed with adventure I couldn't put it down. Unlike a lot of books for this age group, the story is realistic and easy to believe. The fast pace keeps the reader turning pages and wondering what will happen next. Miranda is a wonderfully clever girl that any young girl could see herself in. 

The Starlight Books, 1 & 2
By Janet Muirhead Hill
Illustrated by Pat Lehmkuhl

     These two books are the beginning of a compelling series about Miranda Stevens and Starlight, the horse she loves. Miranda is a feisty, strong-willed girl who knows what she wants and is willing to go to almost any lengths to make her dreams come true.
      Miranda wouldn't mind living on her grandparent's farm without her mother if she could just have a horse of her own. Making friends in the new school is difficult, but the new girl, Laurie, and the class bully, Christopher, do become Miranda's friends. When Miranda and Chris see the horses pastured across from the school, Chris dares Miranda to ride the beautiful black horse and her troubles begin, setting off a series of exciting adventures. Miranda takes every opportunity to see Starlight, and considers him her own, much to the distress of her grandparents and the man who owns him.
      Chris owns a horse, and his parents have enrolled him in several competitions, but he is really afraid to ride. Miranda takes on the difficult job of teaching Chris about horses so he can compete in the Winter Fair.
      In the second book, Starlight is seriously injured because of Miranda's mistake. In this exciting sequel, both Miranda and her beloved horse must have courage and loyalty to overcome the obstacles they encounter. The action is non-stop in this fast paced adventure with a genuine villain. Either story can be read alone, but as a series it is outstanding for its forceful plot and characters whom you will love. Great contemporary horse stories are hard to find...Miranda and Starlight's adventures will please any horse lover and encourage their interest in reading.
Beverly J. Rowe
MyShelf.com reviewer
102 Copper Lane
Kenai, Alaska 99611

The sequel to "Miranda and Starlight", Starlight's Courage by Janet Muirhead Hill is the story of a young girl and an injured two-year-old stallion named Starlight that she has befriended. When she and her friends arrange to ride in a competition against their classmates, they are all unaware that a disturbed individual is seeking revenge. An involving and highly recommended novel for young readers which is nicely enhanced with Pat Lehmkuhl's black-and-white sketches.
Reviewer: Midwest Book Review
Editions: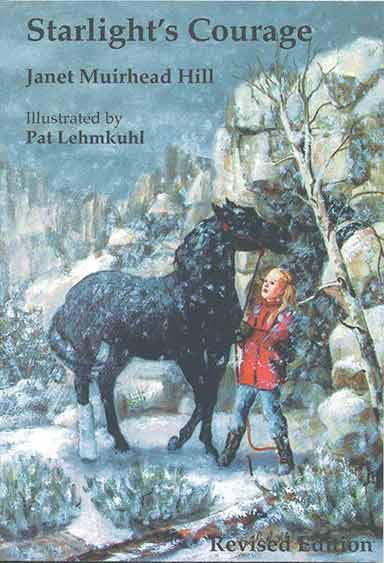 2010 Electronic ISBN: 9780982089354
$6.00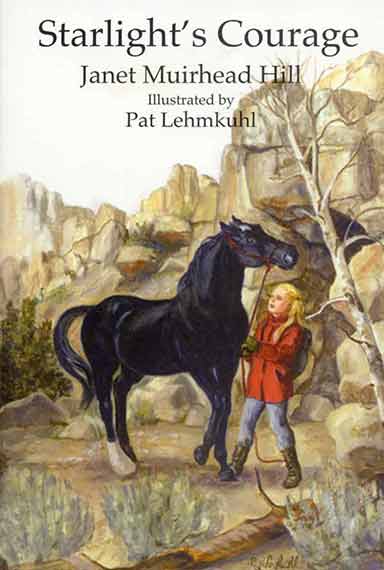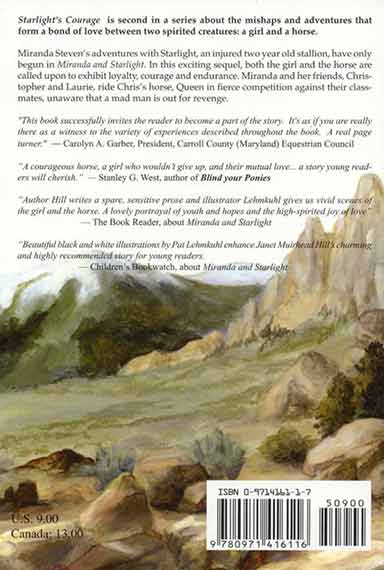 2002 Paperback (first edition) 178 pages ISBN: 9780971416116
$5.00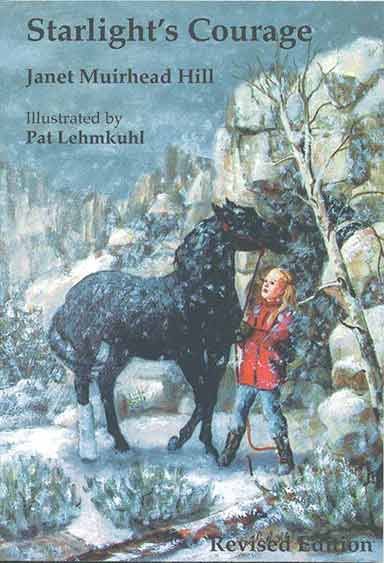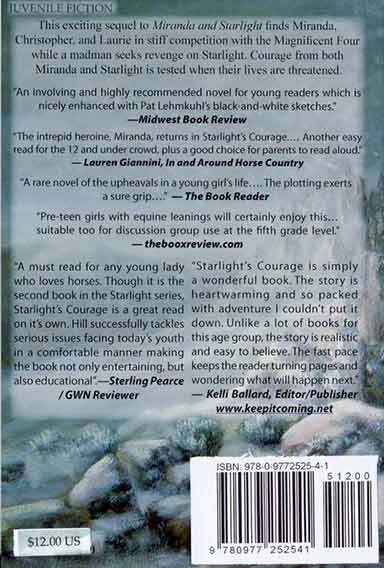 2007 Revised Paperback 162 pages ISBN: 9780977252541
$12.00