An Inmate's Daughter by Jan Walker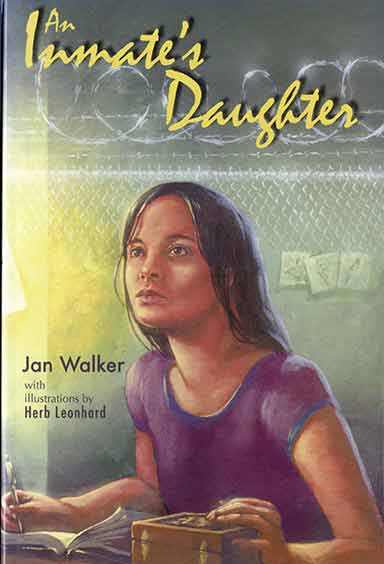 On the first day of summer vacation between seventh and eighth grade, Jenna McDonald does the dumbest thing ever. She jumps from the McNeil Island boat dock into the water to save a little girl from drowning. McNeil Island is a prison in the middle of Puget Sound. It's where Jenna's dad lives, and she is there with her mother, brother, and grandparents for a visit.
Diane Sekeres, University of Mississippi

An Inmate's Daughter
Jenna's Dad lives in a prison of mortar and wire, but her Mom is trapped in a prison of secrecy. Years of trying to raise two kids alone and make enough money to support them has embittered Jenna's mom, and a move to live with her parents both helps and makes things worse. Jenna and her grandfather are the most interesting characters in this story about compromise and truth, yet they all represent in some way the painful choices that families in these situations must make.
It's easy to slip into Jenna's feelings about her life because the reader moves with her through typical adolescent concerns—making new friends, arguing with her mom, caring for her brother. Knowing her on this level helps to understand her fear of exposing herself and her family to the prejudice of those who victimize the relatives of a convicted criminal. Yet, it's the impossibility of keeping quiet about Jenna's rescue of a drowning child that breaks open the silence. Her mom is forced to accept living openly with the reality of her husband's incarceration, though she is still bitter and despairing of the outcomes. Jenna, though, is free to live with the same truth on her own terms, and she is free to become more than an inmate's daughter. The gentle moral that it's the criminal alone who should be jailed is clearly woven throughout, but it doesn't take away from the story's impact. Jenna is someone you'd like to know.

This story tells about thirteen-year old Jenna MacDonald, whose father is in prison for murder. Mom's "don't tell" rule requires that Jenna and her brother fabricate stories about their dad. There are more than two million children in the US that are in this same predicament. They have an incarcerated parent, and are suffering from isolation and the pain of being ostracized by their peers. These children need help to cope with the problems they encounter, but few receive this assistance. Jan Walker tackles the problem head-on in this book. Jenna, her brother, and her mother have moved in with grandparents to live closer to McNeil Island where her father is incarcerated. Being half Native American contributes to Jenna's difficulty in trying to make new friends. During a visit to the prison Jenna dives into the water to rescue a small girl when she falls off the dock at the prison. When the Department of Corrections investigates the accident, the publicity threatens to expose the story of Jenna's dad to all her new friends at school. Jenna's mother is upset because her actions have called attention to their family, and now Jenna questions her own decision in rescuing the drowning child. "Why did I do such a dumb thing?"

Jenna longs for a friend that she can talk to about her feelings, but when she tries to join one of the racially-mixed "in" groups, they ask questions about her family, bringing the tensions between Jenna's need for acceptance and her mother's desire for secrecy to a head. Jan Walker's plotting and characterization skills are exceptional. You can really feel Jenna's isolation and pain. This book would be a great addition to your children's library and a wonderful family night conversation starter to help promote tolerance and acceptance in your children.

Jan Walker and Raven Publishing, Inc. have partnered in their mutual mission of using fiction to address contemporary issues faced by preteens and teens. "An Inmate's Daughter" is an effort to increase awareness of the daily struggles faced by children who have a parent in prison.

The story revolves around thirteen year old Jenna, whose father is in prison for murder. Jenna found herself without friends after a move to live with her grandparents. The stigma of her father's imprisonment, and her mother's firm rule about keeping this fact within the family left her feeling insecure about making friends.

Jenna whose heritage is half Native American is also confronted with Bi-Racial bigotry. Jenna uses her journal as a means of sorting out her feelings.

On an extended family visitation to the McNeil Island prison facility to see her father, Jenna saves the life of a young child in a near drowning incident. News coverage of the incident becomes a threat to Jenna's mother. She fears that their identity and family secret will be exposed. Jenna is faced with the question of what will happen to her "evaluation" if members of her secret club find out about her father's incarceration.

Jan Walker intricately and expertly weaves a plot around club acceptance, a soccer team, the strength of family, and the measure of true friendship in this heart rending, true to life, fast paced narrative. The pen and ink illustrations of Herb Leonhard make you feel the emotions of the dialog.

Jenna is faced with the choice of living a lie, the possibility of bringing hurt and shame to her mother and younger brother, or the freedom of truth.

This is an excellent book for the young reader, grades five through eight. It is an important resource for classroom teachers, child counselors, ministers, and prison personnel who are exposed to children with an incarcerated parent.

N INMATE'S DAUGHTER by Jan Walker tells the simple story of young Jenna MacDonald, her mother Lynn, her kid brother Zeke, her grandparents (with whom the three now live), and the father incarcerated for murder. It begins with Jenna doing, what her mother tells her, was "the dumbest thing ever." Following a visit to her dad on the island where he is imprisoned, she dove into the water to rescue a little girl. As her brother Zeke always seemed to fall into the pool where they formerly lived, rescuing this girl was only natural.
For Jenna's mother, though, such an act was an inevitable attention grabber. People would know of her daughter the heroine, thus being made aware of Jenna's father, the inmate, thus ruining her chances at becoming the paralegal for which she had been studying. Therefore, in the MacDonald household, there was a strict "don't tell" policy. Don't tell anyone that Bernie MacDonald was incarcerated for murder. Jenna shares some of the same concerns as her mom, though not for the same reasons, as she is hoping to fit in with the kids at her new school, make friends, and simply enjoy being a kid. Will the Snoops, as she calls them, a group of semi-preppy girls made up of differing ethnic types (Jenna's father is a Canadian Indian) will they accept her if they know about her dad? Janna wants to have friend, and she wants to follow her mother's rules about not telling; but, she also wants everyone to know what a great dad she has.
Typical teenage angst. Typical single-mother angst. Typical wonderful tale of growing up in America where anything can happen to anyone at anytime. AN INMATE'S DAUGHTER takes a unique situation most people probably never consider (I admit my own ignorance) and covers it with the flesh of human experience.

What is the stigma attached to having a parent in prison? How traumatic must it be for a wife, in raising two young kids without her husband, to face the extra burden of a husband who is a criminal? Is there a bias she faces in dealing with people? Do her children fear the ostracizing of their peer groups?

While this book is not heavy reading (it's classified as Juvenile Fiction) it does tackle a heavy topic in a manner that is neither watered-down nor overbearing. Jan Walker shows a mother and daughter who are both believable in their differing struggles. While Lynn MacDonald's words in berating her daughter are mean-spirited on the surface, underneath is clear pool of pain and fear.

Every member of this family exuded their own personable traits. Jenna and Zeke, Grandma and Grandpa, Lynn – all were very believable and real. Each had a character to themselves that was charming to read. The ethnicity which seemed intent on blending into the theme of the story, though, it never exuded the same transparency. Jenna is said to carry a swarthy appearance. Such never came through in the words of the story – as neither did her father's Indian heritage. Also, the Snoops never looked as multi-cultural as they were. Their differing heritages never managed to resonate.

Nevertheless, AN INMATE'S DAUGHTER remains an intriguing take on the prejudice of society. Suffusing Jenna's story with the already known cultural biases present in the world (the differing ethnicities vying for respect) makes the judgmental attitudes an inmate's family face more realistic and believable than an ignorant public would otherwise have known — the mark of a well-written story succeeding in its goal.

Jenna MacDonald is a normal 13-year-old girl at Howard Middle School—with a big secret. Her dad is doing time for murder at McNeil Island Prison. He has a degree in psychology, woodcarving talents, and Indian heritage, and Jenna is proud of who he is, but is ashamed of where he is. Her mother Lynn is a woman who believes everyone judges the worst and misses the best. She has imposed a "don't tell" rule that leaves Jenna struggling to be honest with new friends and find the freedom she is searching for. An incident on visiting day at the prison ignites a chain of events: Jenna save a little girl who falls off the dock, but it ultimately exposes her secret.
There is a substory that deals with racial tension in middle school and explores the topics of gamgs. I don't know how much of the dialog will ring true for students reading this, but the topics are important and timely. For younger YA's who have parents in prison, this book brings to light the reality that kids do time too.

There are very few books written for or about the hundreds of thousands of children with incarcerated parents. This book's story line catches the interest of any reader, child or adult, from the first and carries it through to the end. The theme of hiding an incarcerated Dad from those outside the family rings very true to me who has spent years working with children of prisoners. School and public libraries SHOULD have this book in their collection.
"An engaging story of how one adolescent girl with an incarcerated parent deals with family issues and the all-important task of fitting in with her peers. An important book for teachers and students with such children in their midst."

Grade 5-8–After her father is incarcerated for murder, 13-year-old Jenna, her younger brother, and her mother move in with relatives. All of these people, including Dad, are trying to do the best they can, but society and the stigma attached to the situation cause problems. The novel opens with the family taking a trip to the prison and Jenna, on automatic pilot from years of taking care of her brother, rescues a child who falls from the ferry into the water. As Jenna gets used to her new schoolmates and tries to make friends, she is constantly fearful of anyone learning the truth about her father. However, as the Department of Corrections investigates the accident, the subsequent publicity threatens her new relationships. Most of the adults are bland, and the writing is run of the mill. Still, given the fact that prison inmates are estimated to be the parents of over a million and a half children, this title could be a useful conversation starter for those who are in this situation or know someone who is. Jenna is a stalwart heroine who learns along the way to trust her own truths with those who care about her.–arol A. Edwards,
Editions: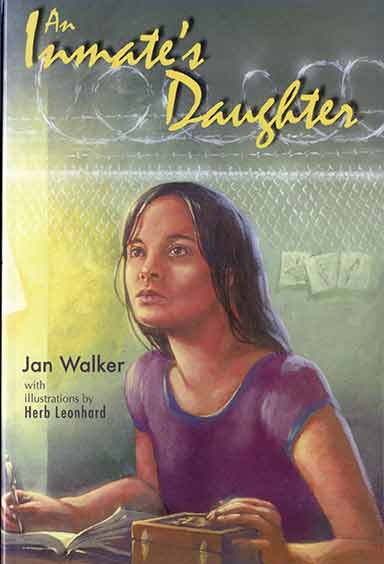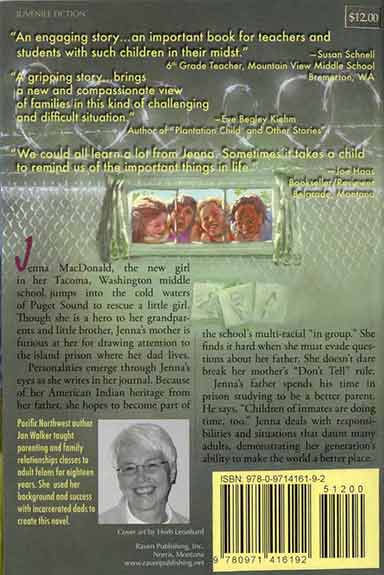 2010 electronic ISBN: 978-0-9827377-0-5
$2.99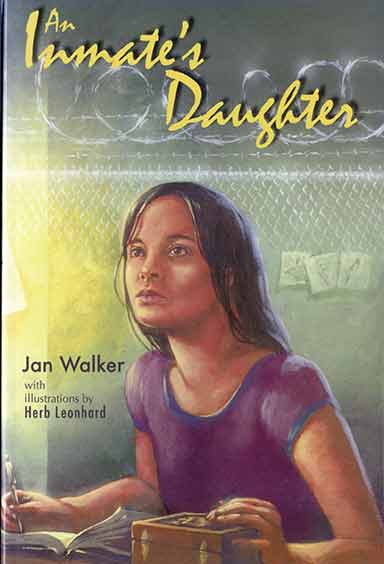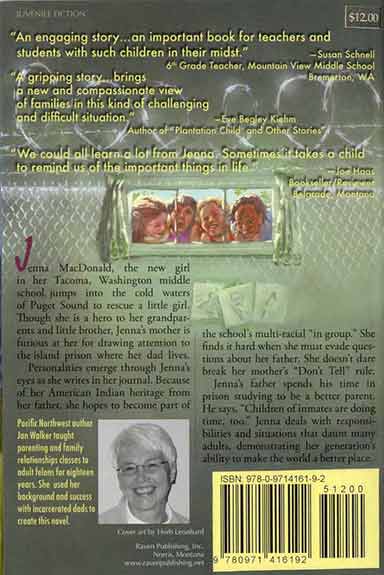 2006 Paperback 172 pages ISBN: 978-0-9714161-9-2
$12.00