A Horse to Remember by Juliana Hutchings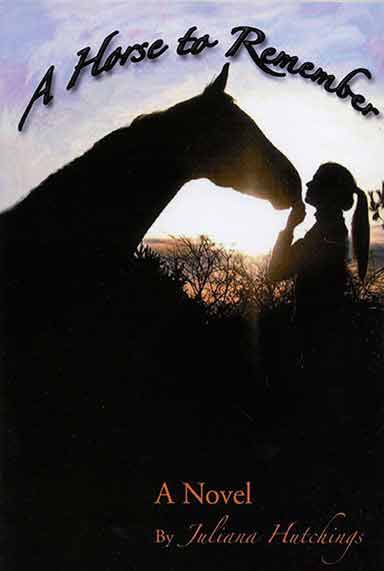 After her family relocates to the small country town of Lewisberg, Tennessee, Hilary Thompson, who has lived and thrived in the city the whole 13 years of her life, feels as if her world has stopped turning. When she begins working at the local stables owned by Susan Collins, she meets Satan, a wild mustang stallion who belongs to Susan's rebellious son Jeremy. Satan seems as lonely and out-of-place in his new surroundings as she is in hers. When Jeremy fails to tame Satan, and his mother threatens to sell the horse, Hilary resolves to tame him. But can a girl who knows nothing about horses gain the trust of an aggressive mustang? And will she be able to keep her efforts a secret? Encouraged by a new friendship and suffering the aggravation of a new rival, Hilary spends increasingly more time with the stallion. As her affection for the mustang grows, Hilary learns about horses, people, and the greatest lesson of all, unconditional love.
13-year-old Hilary Thompson recently moved to a small town in Tennessee. Her father was transferred to a different hospital where he worked as a surgeon. Hilary did not feel like she belonged as she finds herself in a new rural town and is used to the upbeat scene of Delaware. Wanting to keep her daughter occupied, Hilary's mother applied for Hilary to work at Millbrook Stables. At the farm is a problem stallion. Stallion owner Jeremy feels the horse is uncontrollable. As time goes on we see that Satin and Hilary are not so different after all; they both find themselves in new uncomfortable surroundings. Satin can not be ridden until Hilary takes the reins. During the novel we learn how the bond grows closer and closer as Hilary and Satin share life's lessons.
The book includes a glossary, which helps readers with horse terminology. Vocabulary is very suitable for young readers, easy to understand, descriptive, well written and entertaining. Plot was easy to follow.

Author Juliana Hutchins is 14 years old and has been around horses her entire life. She is a rider, trainer and instructor. She attends junior high in Pennsylvania. Watch for more from this talented author.

Well written, and highly recommended by Haley Hodge, Allbooks Review.


After the first chapter, I couldn not put it down. I was changed by this book. The final moments reminded me of how precious our pets are, and that we should cherish every moment with them.
An amazing heartwarming book, A horse to Remember tells of the bond between horse and rider that few imagine, let alone describe in such a real, vivid way. Djeane Peters, age 14, Grassrange, Montana


This book will capture any young person who loves horses, and who doesn't! It has all of the elements of a teenager going through those tough years, but also finding something that helps them reach for the stars. I would highly recommend this book to all young people who want to curl up in a chair and get away to their dreams of owning a horse.

This is a heart-warming story of love, acceptance and angst. The teenage heroine has been uprooted and moves to an environment that is foreign to her. At the same time a new horse arrives at the Stables next door...you guessed it...they become friends. The ease and flow of the words on these pages make it an enjoyable read. While this story has been told before I feel that the author's story plays heavily in to the very real - not patronizing - teenage feelings, because she is a teenager herself! Juliana Hutchings is "An Author To Remember"
This is a great read for anyone. It flows easily giving depth to a realistic and moral story that is an honest delight. It will warm your heart and last long after the book has been read. Bravo
When Hilary Thompson's father announces that the family is moving to Tennessee, the thirteen-year-old is shocked. She has been expecting to attend high school with her friends in the city, but now she might as well be moving to a shack in Alaska. Instead, her parents are excited about horse country and never falling asleep to city noises again! Before she knows it, the family arrives in Tennessee and Hilary has a job working for Susan Collins at Millbrooke Stables. Although Hilary doesn't realize it at the time, what happens to her at these stables will change her life.

Susan's son, Jeremy, has an out-of-control horse, Satan, and no matter how he tries, Jeremy cannot subdue the feisty animal. Fearful that this beautiful horse will end up in a slaughterhouse, Hilary decides to tame Satan in secret, with little knowledge about horses or how to train them. When Hilary comes eye to eye with the stubborn mustang, sparks fly and she is challenged in unexpected ways. While attempting to hide her efforts from the others at the stables, Hilary learns about the special bonds that are formed between a girl and a wild animal, the level of trust they develop and the meaning of loyalty.

Written by the author at the age of fourteen, experienced rider and instructor Hutchings has beautifully captured the essence of adolescent angst, the emotional turmoil of change and the courage of commitment. As Hilary begins a completely different life than what she expected, she rises to the challenge, bonding with the mustang, training him for competition. In the process, she learns a painful lesson about love and loss; more importantly, Hilary experiences the value of friendship and the enduring memories forged with Satan as they begin to trust one another unconditionally. Written in the appealing prose of young teens, this endearing story is a beautiful reflection on coming of age.

After a recent move to rural Tennessee, Hilary Thompson took a summer job at the Millbrooke Stables, adjacent to her new family home. A wild mustang stallion, Satan, had just arrived at the stables for training. Recognizing his loneliness and need for friendship, Hilary established a trust with Satan and worked to tame and train him for competition in jumping events.

This is a story of a bonding between animal and human. It is a heartwarming story of earning trust and finding friendship. Juliana Hutchings writes with maturity and insight. She has an amazing ability to use dialog to draw the reader into identifying with the emotions and feelings of her characters.

Photo silhouettes created by Isabelle Hutchings convey a feeling of warmth, trust, and devotion and bring the narrative to life.

This is a book that every young reader and rider will enjoy. Juliana communicates her own lifetime of experience and love for horses as she carefully takes the reader through the various steps of training, for both rider and horse. She includes a very helpful glossary of horse terms.

"A Horse to Remember" gives promise of more to come from this young gifted author. This is an amazingly well written first novel. I highly recommend it for pre-teens, teens, and the young adult reader.


ONCE IN A LIFETIME
To be gifted with the chance to work with and ride horses is the dream of many. To be gifted with the chance to "join-up" with a horse like Satan is a once in a lifetime experience.

Juliana Hutchings has been around horses all her life and at the age of 14 crafted this amazing story of a young girl and the mustang that she befriends. When Hilary makes a move to a new town leaving her old friends behind, she's feeling lonely very much like the little mustang that has been dropped off at the stable nearby because no one can handle him. A summer job is the beginning of a friendship between the two.

Hutchings is aware that for some readers the terms used to describe what happens at the stables will be new to them. So as Hilary learns these terms so can we via the glossary added at the back of the book. And also like Hilary, we become initiated into the world of horses and riders and how they can work to become a team.

Twists and turns, ups and downs, and a far bit of growing up are all experienced in this nicely paced book of courage and hope. Strong female characters and good family values help to round out this story of what can be done when one sets their mind to a goal and follows thru even if it involves a few tears along the way.

Posted on Sun, Jan. 21, 2007



Student Spotlight



Suddenly, Satan skidded to a halt and wheeled his muscular body around. He stampeded back to the far end of the paddock, Hilary hanging on. It was just like the dreams she had experienced. Thoughts whirled through her brain with a mixture of pictures and sounds. Could those dreams have forecast Hilary's future? Would Satan jump the fence? Would she fall? The terrifying thoughts vanished when she realized the horse had stopped. He backed up a few steps and raised his head high in the air. Hilary followed the startled horse's gaze and gasped, horrified at what she saw.

- From A Horse to Remember

"Satan" here is a mustang horse, not a demon, and this heart-pacing excerpt is from the soon-to-be-released young adult novel A Horse to Remember by Juliana Hutchings, a 17-year-old junior at Avon Grove High School. Hutchings wrote the bulk of the novel three years ago, when she was 14.

Janet Hill, president of Raven Publishing Inc., a small, Montana publisher that is printing and distributing the book, had nothing but good things to say about working with the teenager.

"Juliana is the first really young writer that I've worked with, and it's been delightful. She's very intelligent and open to suggestions, but she's also able to hold her own," Hill said.

Hutchings, who lives on a farm with her family in Landenberg, took some time out of her busy schedule to talk about her life as a student/author/horse enthusiast.

Question: Tell us about A Horse to Remember. Where did your ideas for the novel come from?

A:It's based off a game my sister and I played when we were younger, with dolls and toy horses. It's about a girl who tames a mustang, and no one thought she could because she knows nothing about horses. I wrote it in about three months, during the winter of my eighth-grade year.

Q: Take us through the process of getting A Horse to Remember into the hands of a publisher.

A: It sat for a year, because we really didn't know any editors, or what to do with it. It was even more difficult to get a literary agent. I finally found one that seemed good, I sent them the manuscript; they liked it and accepted it. They had it for about four months, but didn't do anything with it, so I decided that I'd had enough with them, and started looking elsewhere.

I looked at self-publishing, but I didn't want to go that way; I wanted a real publisher. A lot of companies wouldn't read it because it was unsolicited. Finally, two publishers accepted it to read, and both said that they'd like to publish it. In December of 2005 I picked Raven.

Q: What is your experience with horses and riding?

A: I compete right now, and I've ridden all of my life. We live on a farm with 15 horses, and I personally ride four horses. We breed them, so I work a lot with the babies.

Q: Any other interests?

A: I ran cross-country as a freshman. I liked it, but due to horses I couldn't keep running. I like to draw and paint, mostly just horses.

Q: Ever write about something not horse-related?

A: Maybe not horses, but I will probably always write about animals of some kind. I think you should write about your passions, what you know best.

Q: Do you want to be a writer when you get done school?

A: Definitely, I want to hopefully go to a good writing college, and major in English. I'd still like to keep writing, possibly part-time. I'm also interested in graphic designing. I might want to write for a horse magazine, or maybe even do some editing of design for one.

A Horse to Remember will be in local bookstores later this spring. For more information, visit www.ravenpublishing.net.
Editions: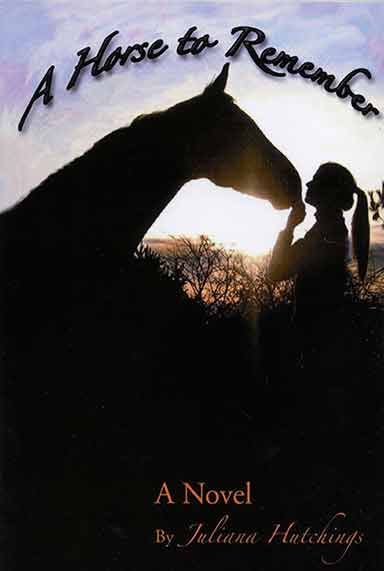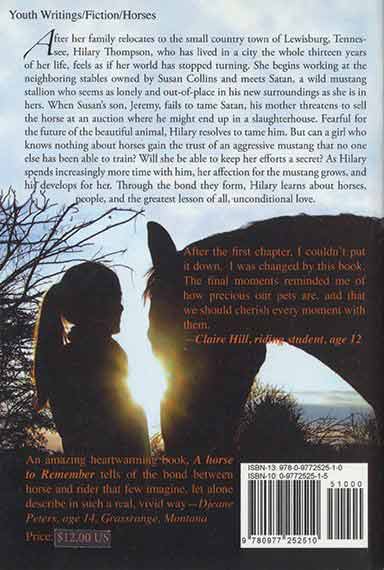 2010 electronic ISBN: 978-0-9827377-2-9
$6.00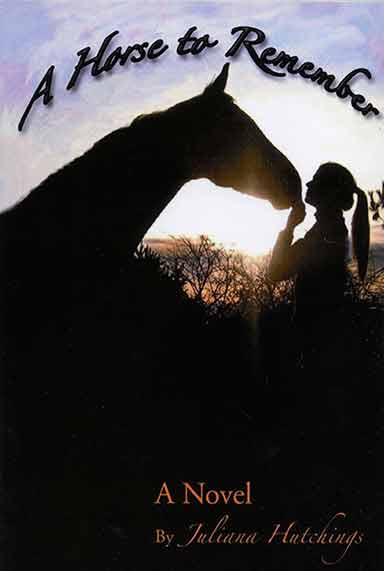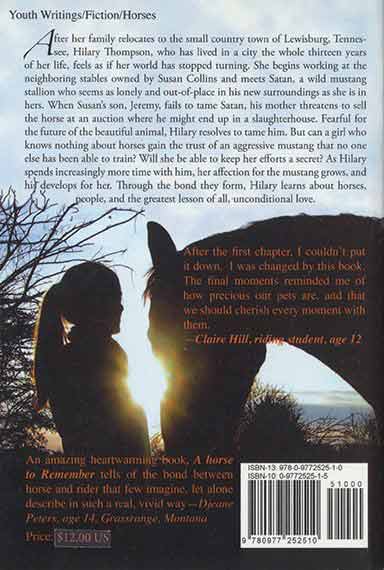 2007 Paperback 176 pages ISBN: 978-0-9772525-1-0
$12.00