The Boarding House by Marcia Melton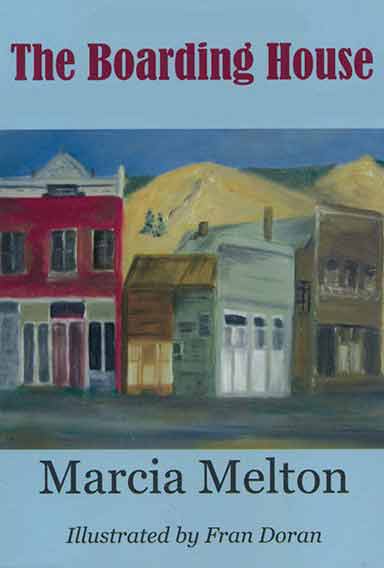 Set in the unstable, politically charged Montana of 1914, The Boarding House tells the story of the Hynes family's tragedy and triumph after a mining accident in Butte forces the family to relocate and operate a boarding house in the small town of Philipsburg. Told primarily through the eyes of the charming 11-year-old Emmie, The Boarding House balances the explosive political backdrop of women's suffrage and mining labor struggles with the endearing coming-of-age innocence of the Hynes children and their small-town Montana adventures.
The Boarding House, by Marcia Melton, is a wonderful work of historical fiction, compelling and well told. By telling a story that both entertains and informs, it serves as an excellent example of the best in historical fiction. The Boarding House allows children to see how history both shapes people and is shaped by them, while also helping children make connections to their own present day lives.
The suspenseful story line is set in the rough mining town of Butte, Montana and the gentler Philipsburg. Marcia Melton is not only intimate with the history of her native Montana, but her fast-paced writing will hold the attention of middle-school readers, and there just might be adults caught reading it from cover to cover.
A strong setting can make a good story even better. Butte and Philipsburg, Montana fit that criteria. The Boarding House is a story of family and friendship as they face loss and change in 1914 and has a very timeless feel making historical fiction accessible for young readers.
Marcia Melton has created a look back at the lives of 11-year-old Emmie Hynes and her family in the early years of the 20th century for today's young readers in her enjoyable The Boarding House. Although the Hynes family has suffered losses and hard times, they also have some exciting and entertaining adventures, and prove once again that doing hard work well and having loving friends is more important than wealth or social standing—a good lesson for young and old alike.

Marcia Melton has brought us the winning tale of a young girl living under difficult circumstances in Philipsburg, Montana during the early days of the last century. In a series of vignettes, we follow Emmie Hynes as she copes with the struggles of her widowed mother to provide a living for the family while running a boarding house. We learn of the mother's attempts to recover money from the Company for the death of Emmie's father in a mine accident. Emmie follows with enthusiasm the blossoming suffrage movement and joins in admiration of celebrity suffragette, Jeannette Rankin. Emmie's interaction with her brother and other children of her age are beautifully and realistically portrayed.
A wonderful book for any child or adult to read.
The Boarding House is a testament to the perseverance of workers and their families to the perils of early twentieth century copper mining in Butte, Montana. The story follows a widow and her two young children and their struggle to recreate their lives in the nearby mining town of Philipsburg after the tragic death of their husband/father in the Butte mines. The story should be valuable to young readers as a point of comparison to their twentieth century lives. —Brian Shovers, Librarian, Montana Historical Society

Editions: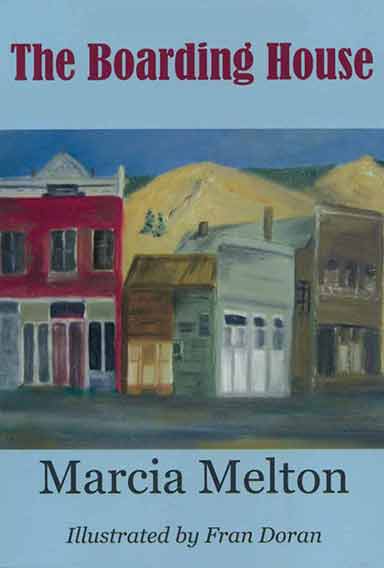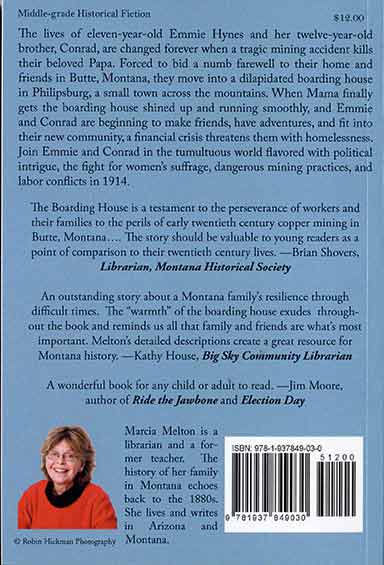 2012 electronic ISBN: 978-1-937849-04-7
$6.00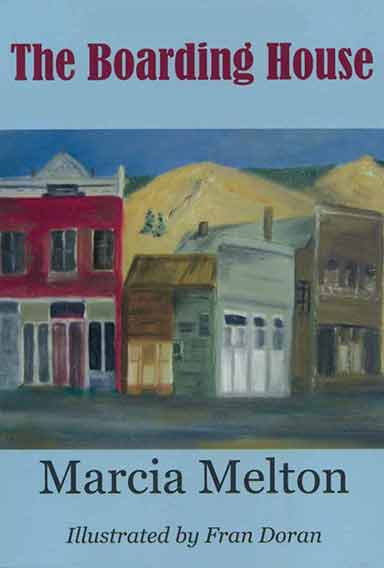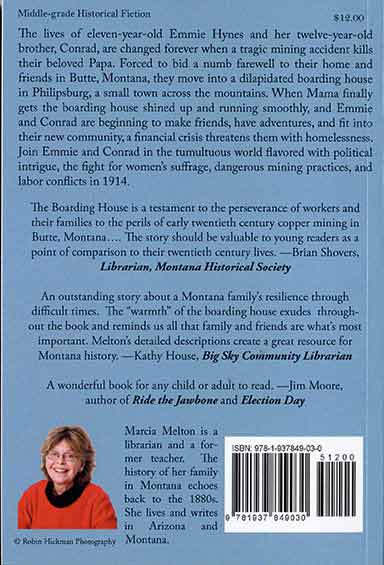 2012 Paperback 163 pages ISBN: 978-1-937849-03-0
$12.00