Absaroka by Joan Bochmann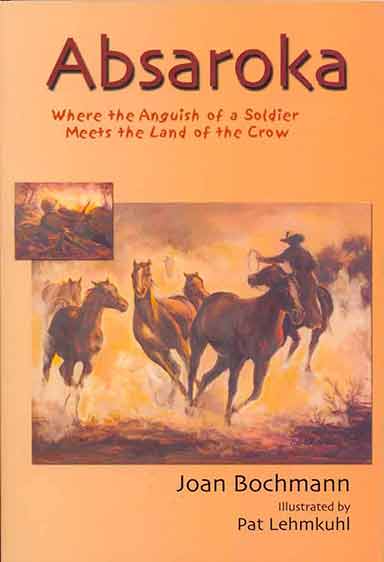 Absaroka: where the anguish of a soldier meets the land of the Crow, published in 2006 is the story of Matt, a troubled young man returning from the Vietnam conflict to seek refuge at the family's ranch in northern Wyoming, only to find his beloved home devoid of cattle, his mother gone, and his father only a shell of his former self. He soon learns that anthrax wiped out the livestock and his father mortgaged the ranch to fund his mother's cancer treatment. The owner of the mortgage is his high school nemesis and is determined to sell the ranch for big bucks to a corporation with mining interests. How is Matt, who is already suffering PTSD and grief for his mother, going to find the strength—and the money—to get his ranch back?
Absaroka is a moving story of a Vietnam Vet and his struggle to regain his normal life after the war. Matt Reed is a veteran of the Vietnam era who comes home to find his mother has died, his father old and ailing, and his home about to be taken away by unscrupulous people and his town on the verge of extinction. Matt hooks up with a few of his friends from diverse backgrounds to battle the forces that are threatening Matt and his town. They encounter many obstacles at every turn in their valiant efforts…. I give it an A.


Joan Bochmann masterfully unfolds subtleties of human experience —of conflict, confusion, and will—against the Western backdrop of nature's raw elements and the people who learn to harmonize with that nature or be destroyed by opposing her. ABSAROKA captures your mind's eye, your spirit's vibrations, and your heart's emotions.


This story is written in simple terms. It seems to target the young adults; however, I feel that anyone over the age of fifteen can really appreciate the story, especially those who actually lived during these historical years. This is how life was. This story shows the value of family, friends, and honor. You will find yourself cheering Matt on as he struggles to regain the family land. Recommended reading.

This book is an excellent choice for any reader. It moves quickly and precisely from beginning until the end. The protaginist is a true-to-life man who deals with the hardships of life in Wyoming after the Vietnam War. I found myself entranced by the story and the setting. Matt Reed is truly a character for the ages.


The Wyoming we meet as Absaroka becomes a character the reader cares about and sees as Matt Reed's soul.
The moment I began reading this book I couldn't put it down. I found ABSAROKA captivating. The walk through this book evoked a multitude of emotions. This book is definitely a keeper in my library

Editions: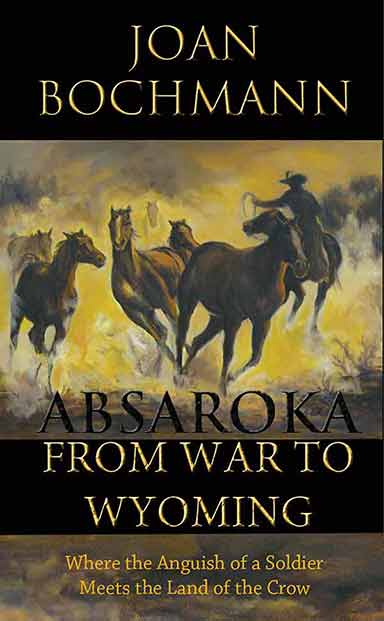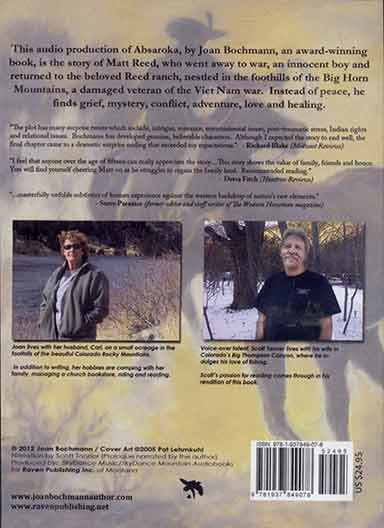 2012 Audio ISBN: 978-1-937849-07-8
$24.95
2012 autographed print 179 pages ISBN: 978-0-9714161-8-5
$0.00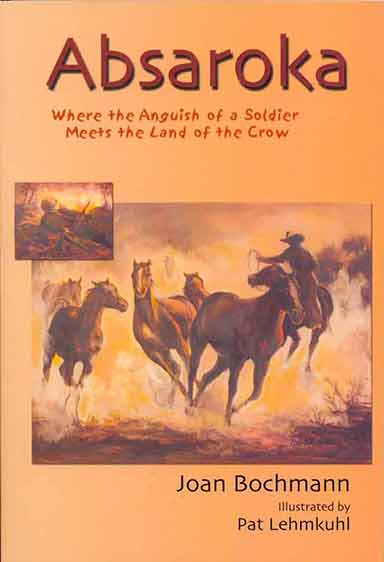 2010 electronic ISBN: 978-0-9827377-4-3
$6.00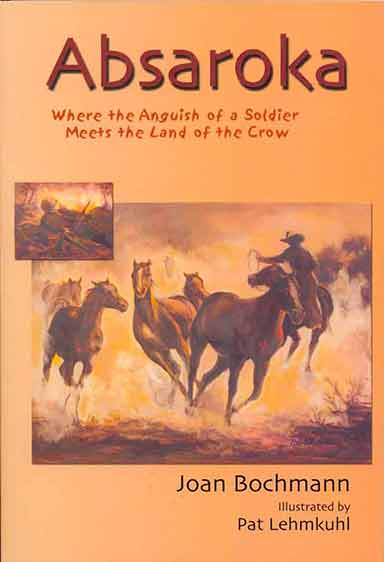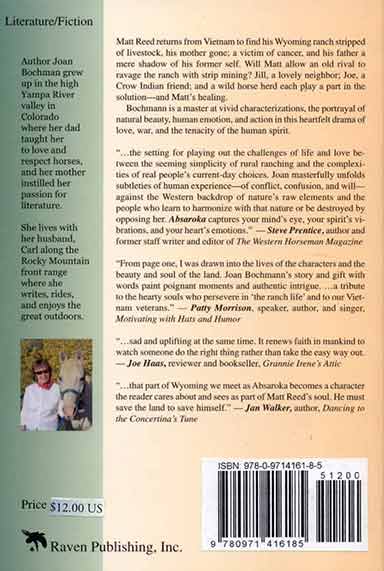 2006 Paperback 179 pages ISBN: 978-0-9714161-8-5
$12.00