Miranda and Starlight (book 1) by Janet Muirhead Hill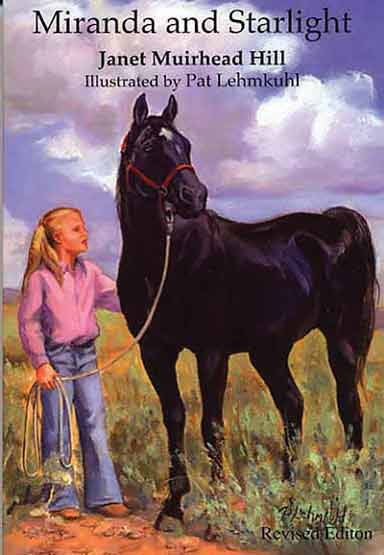 The book that started it all, first issued in 2002 and reprinted and revised in 2006, Miranda and Starlight remains one of our best sellers. Ten-year-old Miranda Stevens, sent to live on her grandparents' Montana dairy farm while her mom seeks her fortune in Hollywood, is having trouble fitting in the small country school. She thinks that if she could have a horse, nothing else would matter. Then she meets the young, black stallion, Starlight, and both their lives are changed. Join fervent and impulsive Miranda, her friends, Christopher and Laurie, and their horses in this fast moving adventure. The books also feature striking cover art and pen and ink drawings throughout by artist Pat Lehmkuhl.
"This is more than a mere horse story. It is a journey of courage and consequences for younger juvenile readers. My own children will read this story.
Dear Mrs. Hill,
Before I read Miranda and Starlight, I hated reading. Your books changed my life. Last night I read Starlight's Shooting Star for 3 hours and it felt like five minutes. You have a gift and Never stop writing books!I have to go read Starlight's Courage. God bless you. Katherine
Miranda Stevens had been sent to live with her grandparents while her mother searched for work as a model. At school she felt left out and alone. She was the only girl in class who did not own a horse. Miranda was sure that if she only had a horse of her own nothing else would matter.
Then a new girl, Laurie Langley, came to the school. While still getting to know each other, they met Christopher Bergman.
When Christopher dared Miranda to ride the most beautiful horse she had ever seen, she never hesitated. That dare began a series of adventures for the three friends.

***** This new series is PERFECT for both boys and girls, especially if they are fond of horses! The author shows that if you act without thinking the consequences can be dire indeed!
The story is very well written, flows smoothly, and is easy to understand. The adventures of Miranda will keep young readers glued to the book as they watch the trio of friends learn lessons of honesty and loyalty. HIGHLY RECOMMENDED SERIES! *****
All horse lovers will relate to this joyfu story of a spunky young girl's journey with the horse of her dreams. The main character, Miranda Stevens, inspires young readers as she discovers the importance of faith, friendship, and integrity.
Miranda Stevens is a lonely fifth grader who feels that if she only had a horse of her own, everything else in her life would be okay. Then in response to a dare by Chris, a boy who has a habit of bullying others, she mounts a beautiful black horse named Starlight and begins a wonderful adventure of scrapes, narrow escapes ,and quandaries that teach Miranda life lessons in honesty, trust, and courage. Beautiful black and while illustrations by Pat Lehmkuhl enhance Janet Muirhead Hill's charming and highly recommended story for young readers. Children's Bookwatch.
Dear Ms. Hill
I read your book, Miranda and Starlight, and I really enjoyed it. It was full of life. I felt like I was there watching it all happen. I can't wait to read Starlight's Courage.

Sincerely, Jessica
I opened up "Miranda and Starlight" tonight just to check it out and found that I couldn't put it down until I finished it! I was hooked from the beginning! What a great story...it leaves you anticipating each page...and remembering what it's like to be at the mercy of adults...and your fears! What a great way to introduce values and teach the idea of standing up for oneself. I'm going to send it to my niece and nephew...they will love it!

Thanks so much for your wonderful writing!
—
This is an American story of the great outdoors, of following the wisdom of the heart, of wanting love, and living the great American dream. There's magic in the everyday. Author Hill writes a spare, sensitive prose and illustrator Lehmkuhl gives us vivid scenes of the girl and the horse. A portrayal of youth and hopes and the high-spirited joy of love. - The Book Reader.

Miranda and Starlight: All horse lovers will relate to this joyful story of a spunky young girl's journey with the horse of her dreams. The main character, Miranda Stevens, inspires young readers as she discovers the importance of faith, friendship, and integrity. Plans are in the works to turn the modern-day classic into a movie, and custom quizzes are available through Renaissance Learning for academic pruposes. "Large type, understandable words and illustrations make this book easy to read. It's about a girl named Miranda who's sent to live with her grandparents and attend a new school. A big bully dares Miranda to ride a beautiful horse in a field near school, and it sends her on an adventure where she learns about honesty and makes new friends. I see a lot of myself in Miranda, because we both love horses and caring for them."
This is the first book of the Starlight Series. It's about a 10-year-old girl named Miranda Stevens. She lives with her grandparents in Montana because her mom is in Los Angeles working as an actress. Miranda has a hard time finding a friend. Nobody in school likes her. A boy named Chris Bergman bullies her.
Miranda wants to make friends, have a real family like everyone else instead of living with her grandmother, and she wants to have a horse. On the first day of fifth grade Miranda meets another new girl in school. Her name is Laurie Langley. Her wish came true.
Then one day Chris dares her to ride a horse in the pasture. She falls in love with the horse and names it Starlight. The horse is black. Chris stops bullying Miranda because she helps him with riding lessons. Miranda learns lots of lessons. She learns she can't lie to her grandparents.
I really, really like "Miranda and Starlight." I think that kids reading this book can learn from the things Miranda experiences. Also, I think that if someone wishes hard enough the wishes can come true.
Miranda and Starlight is the first in a series of six books featuring Miranda and Starlight. In this exciting adventure, for young readers, Janet Murihead Hill has captured something of the young reader's insecurity, fear, and pride. Miranda and Chris find it difficult to communicate openly with their parents.
Miranda desperately wants a horse. Chris needs to learn to ride his. Intricate plot twists bring them together in a complicated web of lies, and deceit. Through the events that unfold Miranda and Chris learn lessons in the importance of honesty, responsibility, courage, and trust.
Hill's writing is powerful and inspiring. Illustrations by Pat Lehmkuhl bring another important dimension to the story. Her pen and ink drawings are strong as they create and identify the settings and the characters in the story. She also has the amazing ability to depict the emotions the characters are feeling through facial expressions and body language.
This is a story for the young reader as well as an excellent read aloud story for delightful, cherished family nights at home."
Miranda and Starlight is a heartfelt story with a main character who is fiesty and energetic. Young readers need more good horse books like this one. Nora Martin, author of The Eagle's Shadow, The Stone Dancers, and A perect Snow.

Miranda and Starlight, a book about friendship trust and courage has characters you will love. I couldn't put it down as Miranda found herself in one dilemma after another. Lessons of honesty, honor, and loyalty are interwoven into this entertaining adventure of a young girl, her friends, and a horse. A must read for young readers.
Her is the heartwarming story of how a young girl's quest for the horse of her dreams teaches her the value of being true to her own ideals.
Editions: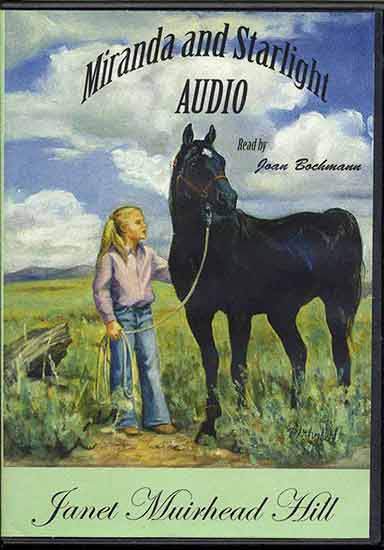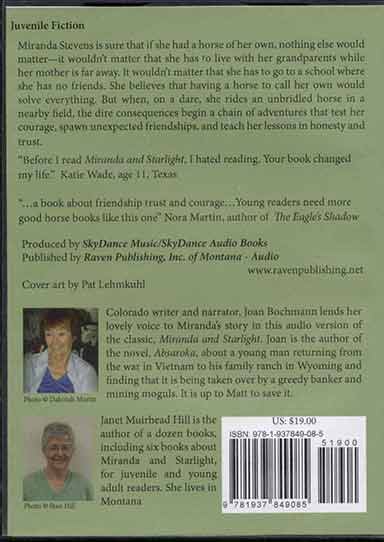 2014 Audio ISBN: 978-1-937849-08-5
$19.00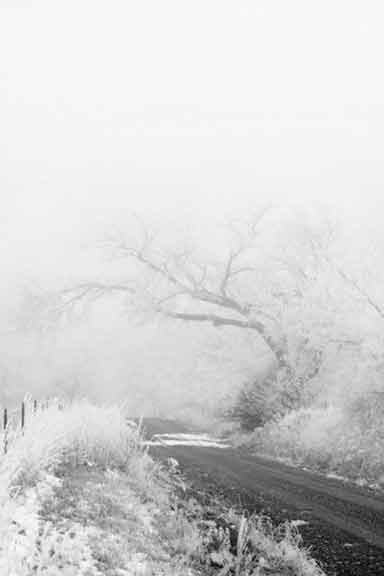 2010 Electronic ISBN: 9780982089347
$6.00
2021 Nine book set ISBN: 978-1-937849-59-7
$81.00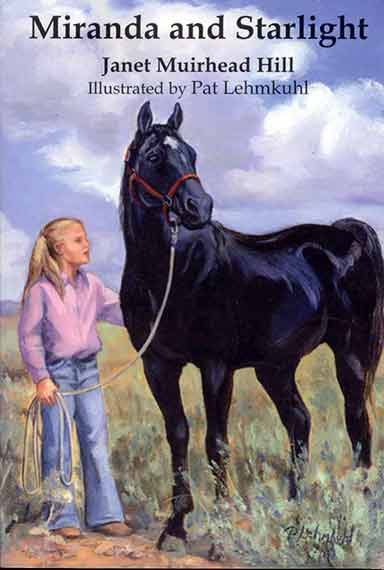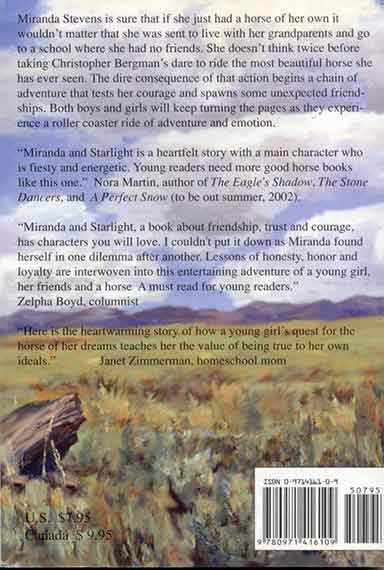 2002 Paperback (first edition) 166 pages ISBN: 9780971416109
$25.00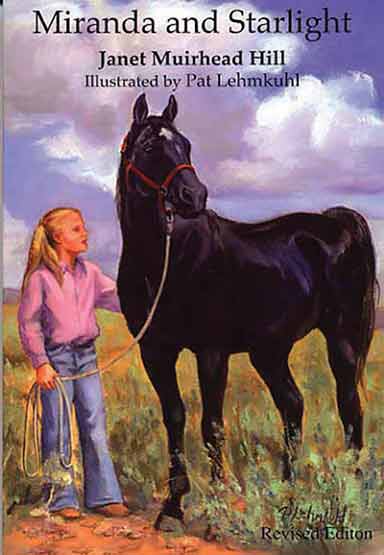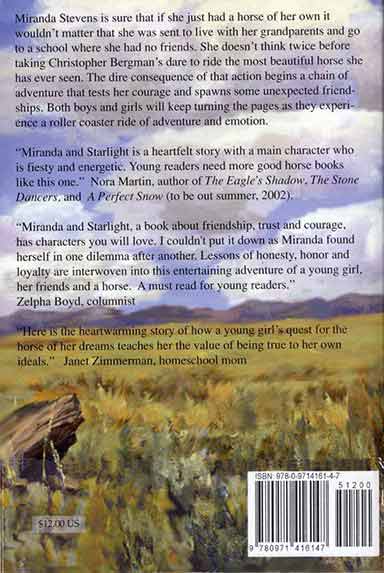 2003 Revised Paperback 166 pages ISBN: 9780971416147
$12.00
Slightly marred cover 166 pages ISBN: 9780971416147
$6.00