Danny's Dragon by Janet Muirhead Hill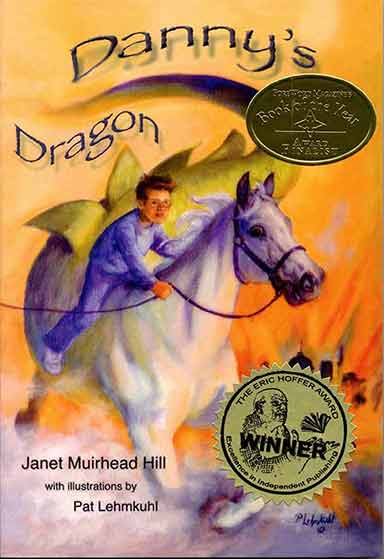 Before his father died, Nine-year-old Danny Branahan had asked him for a horse. Dad said yes, and they brought the beautiful white horse named Dragon home to their Montana cattle ranch. Danny and Dragon became inseparable untilhis father's death. Danny blames himself, reasoning, "If I hadn't asked for a horse, Dad wouldn't have spent the money, and he wouldn't have joined the Air National Guard and gone to war." Danny withdraws into his grief. He ignores his responsibilities and his sister and mother. Most of all he avoids being near Dragon, as if that denial could bring his father back. But in his tormented dreams, dreams in which Dragon transforms into a real dragon with wings, Danny rides him across oceans to find Danny's father and bring him home. Worried about Danny's depression, his mother takes him to one psychologist after another, but Danny can't talk to them. His sadness deepens when he has to move with his mother and sister to his grandparents tiny house in Denver, because Mom can't afford to keep the ranch going. There Danny struggles with a new school, life without his horse, dog, or any other animals or his sixteen-year-old sister, Mindy, who is allowed to go back to Montana to live with a friend during the school year. He waits for word about Dragon, but Mindy can't find him. Many things must happen before Danny can return and to search for his horse and to be with the beloved family dog, Buddy. Through it all Danny learns to renew his relationship with his sister and mother and finally to accept that Dad is gone from his physical life, but never from his heart and memory.
I really liked this story. It took me a while to relate to Danny, because i have not had to deal with a loss such as his. Fortunately, my younger daughter, who served as a HAZMAT cargo loader in both the first Gulf war and in Qatar in the current Gulf War, returned, as she tells us, changed but unscathed. Even though my husband had 35 years in the National Guard, I never faced what many in her generation are facing now.
I got into the story when Danny and his mother moved to Denver and Danny encountered Jameel. Having friendships with many people of different nationalities and religions made me very aware of what Danny and Jameel were experiencing. I felt, on a visceral lever, the confusion that Danny experienced in his beginning friendship with Jameel. The antagonism of the other boys, I understood, having always been "different" and knowing that "difference" is not always acceptable. I was intrigued by the instructor having the boys build a bridge, not just a physical bridge, but a bridge that showed them how to relate and cope with difference. I was also very touched by Jameel revealing that his family had been killed by a bomb and Danny's growing understanding that nobody escapes war undamaged or unhurt.
I admired the mother greatly. I am reminded in her courage to mover to Denver to better her chances of supporting Danny and his sister, of Eleanor Roosevelt saying, "We gain strength, courage, and confidence by each experience in which we really stop to look fear in the face. We must do that which we think we cannot." The mother's determination and the grandmother's encouragement also reminded me of my own mother who worked very hard to make sure we had a roof over our heads, food on our table, and clothing on our bodies. I found it pleasing that the mother's art enabled her to keep the ranch and her family intact. Ho many times have I heard someone say disparagingly, "Oh, that's very nice, dear. What a nice hobby!"
I got very involved with he characters and the story. I enjoyed Danny and his Dragon and the whole story very much. I recommend it highly.
Danny is a ten-year-old boy whose father was sent off to war in Iraq as part of his Air National Guard unit and who was killed in action. Danny struggles with the various stages of grief as he remembers good times with his father, uses his vivid imagination and the horse named Dragon that his father had given him. In addition to the pain of losing his father, Danny's family is also plunged into financial problems because of his father's death, and along with his mother and sister, Danny is forced to leave their Montana ranch. Danny must learn about himself, his family, the world, the "fellowship of suffering," and the emotions he feels when attending a Denver public school and discovers he has as a classmate the "enemy" —a boy from Iraq.
A skillfully written novel for young readers ages 8 to 14, enhanced with twenty black/white illustrations by Pat Lehmkuhl, Danny's Dragon is a critically important book that needs to be a part of every school and community library collection in the country, as thousands of children find themselves in a similar position to Danny with their fathers (and sometimes their mothers) going off to war, being wounded and even killed, their lives and families savaged by war, and the death of a parent.
James Cox, Editor-in-Chief
I finished reading Danny's Dragon, and I loved it. I felt like I knew Danny's feelings very well, and from my own experiences, this book made me feel like another person had been through the exact same hard time as me. Reading Danny's Dragon helped me a lot. I recommend this book for anyone, but especially someone who has lost someone very close to them Danny acted exactly like I did when I lost my father. I didn't believe that he was actually gone. I felt like the only thing I could go to was Dash, my horse. I told him everything because I knew that he could keep my secrets.
5 STARS! Danny, who is ten years old, found out that his dad, who was a pilot, had died in the war in Iraq. At first, he cannot believe it, but after awhile he knows that it is true. This book shows how Danny overcomes his dad s death. He pretends that his horse, Dragon, turns into a real dragon. In his dreams Danny and Dragon try to save his father. Danny has to learn to deal with new people including a boy who used to live in Iraq. I liked this book very much. Everyone should read this great book. Danny s Dragon is a real page-turner, and you will not want to put the book down. This book is good for anyone who has had to deal with death. It is the real reality of losing someone you love. --Brandon Stabler, age 13, Huntress Reviews
What a privilege to preview your book. Danny's Dragon is so well written, it engages the reader from the beginning. I thoroughly enjoyed it and see it as a great tool for anyone in the grieving process, not just the kids, but also the moms and dads and grandmas and other extended family. I also see this book as a gift to those families who have given so dearly of a loved one in wartime. Some of us may never have to lose a dear one in war, but we certainly need to understand the pain of the families who do and find a way to show our gratitude for the freedom they buy for us with their lives. I think this story helps do just that, too. --Patty Morrison, speaker; Motivating with Hats and Humor

Dear Ms. Hill,

I really liked your book, Danny's Dragon. It was action-packed and creative. I loved how this book had lots of detail. It was like I could feel how Danny felt. I learned a lot from this book, especially about the war in Iraq. It was really interesting. I couldn't put the book down once I started reading. I think it is a really great book!

Danielle Rheaume, age 10, grade 4.
Janet Muirhead Hill has written a strong, beautiful, heart-touching story about a ten-year-old boy who lost his father in the war in Iraq. Danny cannot accept that his father won t be coming home anymore. When reading Danny s Dragon you can almost feel the pain and the grief Danny is going through. Janet Muirhead Hill teaches us a few very important life lessons about children and the grief they feel when they lose someone they love. Every parent should read Danny s Dragon; it makes you understand children better. And every child that s been hurt and is sad should also read Danny s Dragon for comfort and also to show that they are not alone in their grief. ---Annick, Euro Reviews

Editions: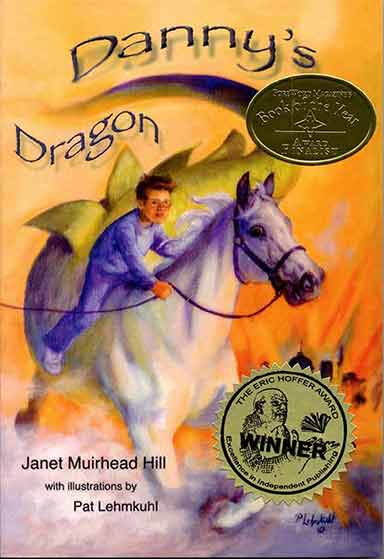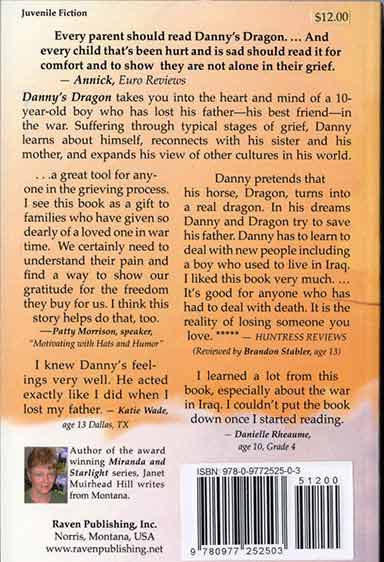 2010 electronic ISBN: 978-0-9827377-5-0
$6.00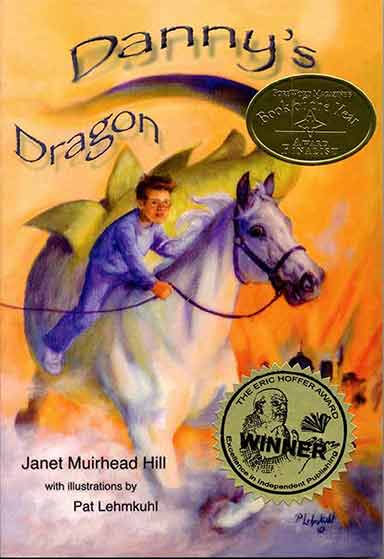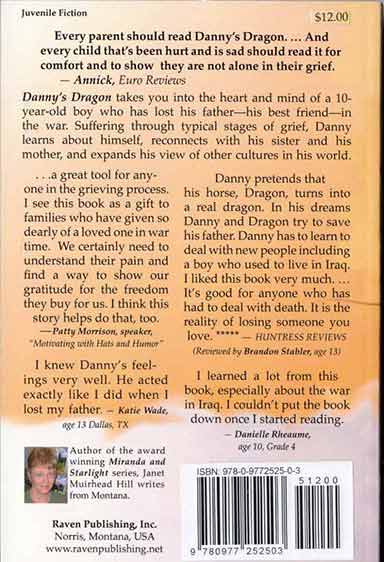 2006 Paperback 190 pages ISBN: 978-0-9772525-0-3
$12.00