Raven Publishing
Featured Book - Election Day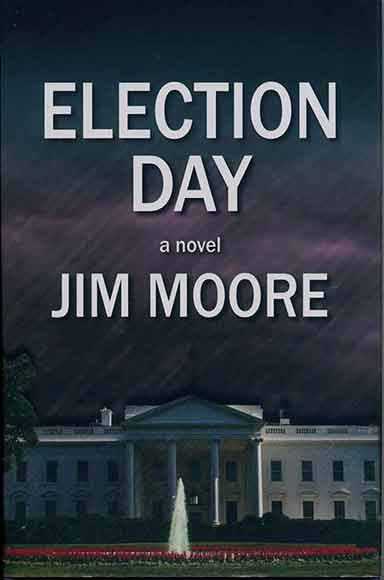 Jim Moore has developed an intriguing story of a political system in chaos, with the intricacies of the US constitution and its amendments as the basic premise of the story.Our forefathers thought of every possible contingency in how to choose the president of the United States of America, including answering…
- Read More
Jim Moore's Election Day is not only a clever civics lesson, but also a high-stakes thriller in which an unlikely band of political operatives struggles to keep the presidency out of the hands of a madman.

Jim Moore knows the law, and he knows politics, and he's brought both to bear in this crackerjack of a read.
Political suspense, constitutional crises, murder, mayhem and romance -- Jim Moore s book has it all. The bonus is that the whole crazy plot revolves around a decent, no-nonsense Montana cowboy.
The unimaginable becomes inevitable in this riveting thriller by Montana cowboy legislator and lawyer Jim Moore, who takes the reader on a thrill-ride of unexpected and sometimes blood-chilling "what if" situations, arriving at a fantastic conclusion actually possible within the legalistic intricacies of the American election and Presidential succession process.

ELECTION DAY is an entertaining story told by a gifted story teller—also an exceptional gentleman, lawyer, rancher, and Montana senator who could have found himself in the shoes of Bobby Hobaugh. It is a "must read" for political wonks wondering when the flaws of our presidential election system are going to catch up with us, students trying to stretch their minds about the oddness and origins of the electoral college, and anyone who enjoys a good mystery entwining interesting characters, politics turned on its head, and a surprise ending – all in a way that could honestly happen in real life.
Jim Moore, in his recent writing of ELECTION DAY, has provided the public with an important lesson in provisions of the United States Constitution governing succession to the office of President of the United States in certain circumstances.
In addition to an important lesson about the United States Constitution, the book, from the first to the last chapter, holds the reader's attention to the story of political intrigue, evil political maneuvering, and murder.
Author Jim Moore's ability to create such a literary work can be understood when the depth of his real life experience as a successful Montana rancher, member of and leader in the Montana State Senate, member of the State Bar of Montana, practicing lawyer, and most recently an author of obvious ability and skill.
Jim Moore is a retired lawyer, a former Montana State Senate Minority Leader, a former director of the Montana Stockgrowers Association, and a Trustee of the Museum of the Rockies. He is not unlike his protagonist in this new novel, Bobby Hobaugh, and despite that or because of it Election Day is an excellent story.
The book is timely in that we are on the verge of another nasty general election for our next president. Mr. Moore looks inside the dark machinations of the candidates who will do anything to win with the buying and selling of votes that taint our political landscape. We all recognize the open arrogance and greed that transpires in Washington, as it does in this book, and the elections go on and the laws are made to the benefit of the highest bidder.
But Moore also taps into a sense of government service for the greater good through the emergence of Bobby Hobaugh — a throwback to an ideal of an older time. His plainspoken, common sense demeanor is a stark contrast to the other two purely political animals at the center of this mystery novel.
Yes, mystery novel. It is a political thriller based on the premise that three days before the election the challenging vice-presidential candidate is accidentally killed by a truck crash in Billings. Hobaugh is called upon by circumstance to fill the gap temporarily, to finish the scheduled appearances of the deceased. His presidential candidate wins, then promptly dies of exhaustion from the trying campaign. Now what? The president-elect is dead without a vice president elect. How does the U.S. Constitution address this eventuality?
I have not given away too much here, as this is just the beginning premise of the book. The real ride and surprises come toward the end when Moore's story gains speed and runs towards yet another election day with its astounding victory of common sense, only to be rammed into political chaos again by the dark side of power. Moore has given us a very entertaining novel. Probing the arcane procedures that our Constitution has established to keep government viable, and giving us an old-time, trustworthy public servant in Bobby Hobaugh who "may be a nobody to you, but he's somebody in Montana."
As a former Chief of Staff for a U.S. Senator during the tumultuous 2000 Presidential Election that the U.S. Supreme Court ultimately resolved in Bush v. Gore, I did not believe the circumstances of an election could provide more drama or interest. But then I read Election Day. What a story! Jim Moore spins a fascinating tale based on facts that could actually happen and would make any other election contest seem like a bore. 
2012 Paperback, 316 pages.
$15.00
The mission of Raven Publishing is to engage, entertain, excite, encourage, and inspire readers through the publication of thoughtful, compelling books and to contribute literary excellence to the public.