Round Trip by Stephen Ore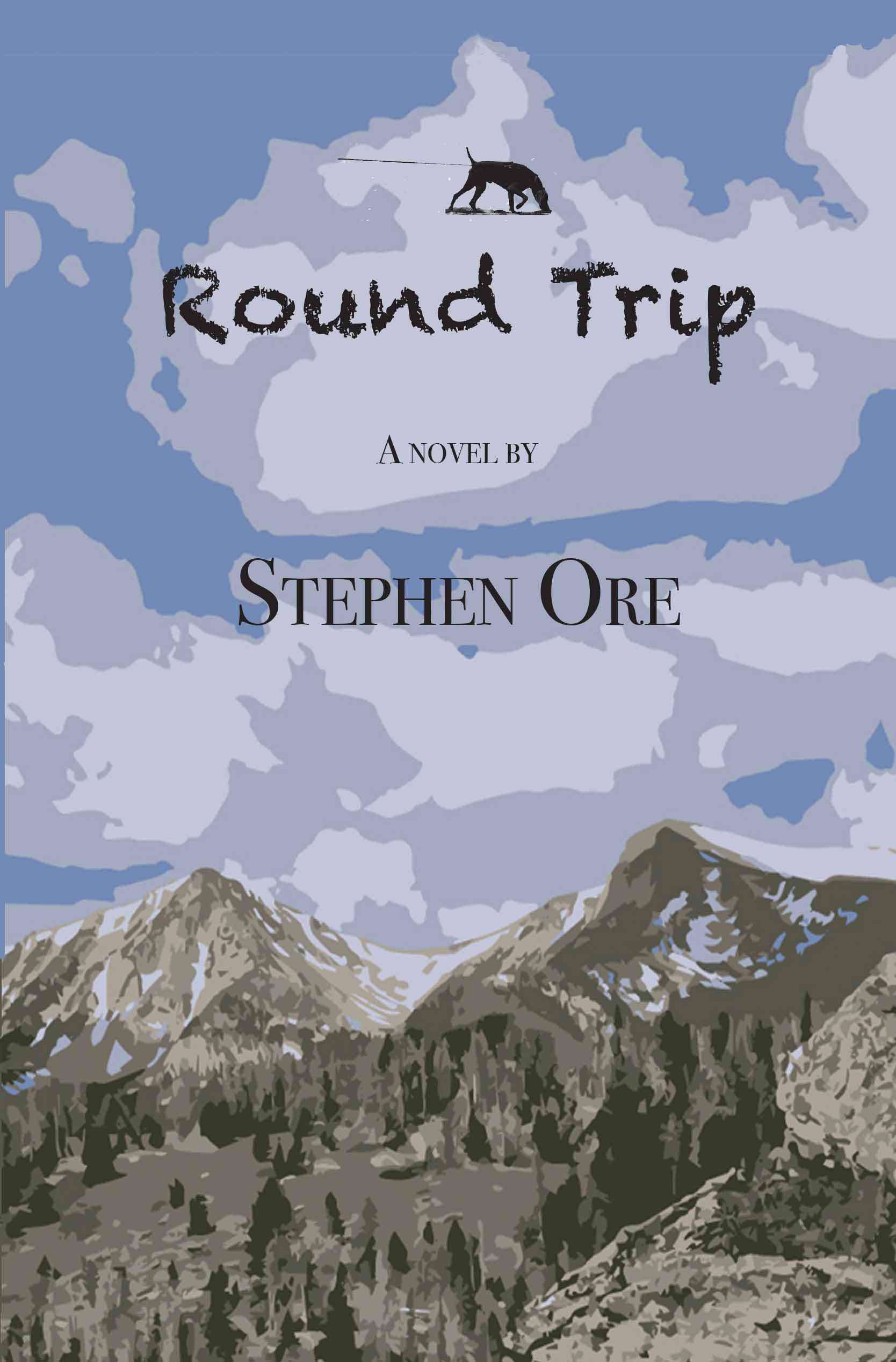 The Tobacco Root Mountains of western Montana have been Matt Lewis's playground since his earliest memories. They provide a refuge from the pressures of high school, a physical challenge as he climbs the highest peaks and explores the lakes and valleys, and the solitude he often craves in which he is one with the bounty of this natural world. His summers, however, don't allow much time for play as he works on J.P. Pickett�s ranch to earn money for college. Pickett is secretly referred to as a hobby farmer by the locals, as his primary residence is somewhere back east. The best part of Matt�s job is time spent with Pamela, Pickett�s young and gorgeous wife. Matt doesn�t deny the crush he has on the woman and is eager to do her bidding just to be in her presence. That changes suddenly when he stumbles onto a dangerous secret while unloading her luggage. When the Picketts realize that Matt knows too much, Jim, their so-called personal assistant: a brawny, always armed, former member of the army special forces, seeks to eliminate the problem—the problem being Matt. Matt takes to the hills, confident that he can lose anyone in his familiar wilderness. His hope to escape plummets when he realizes a tracker is on his trail with a hound he can't shake. Set in one of Montana's most beautiful mountain ranges, Round Trip takes you into the heart and mind of an honest, adventurous, and naive teenage boy as he runs for his life.
Editions: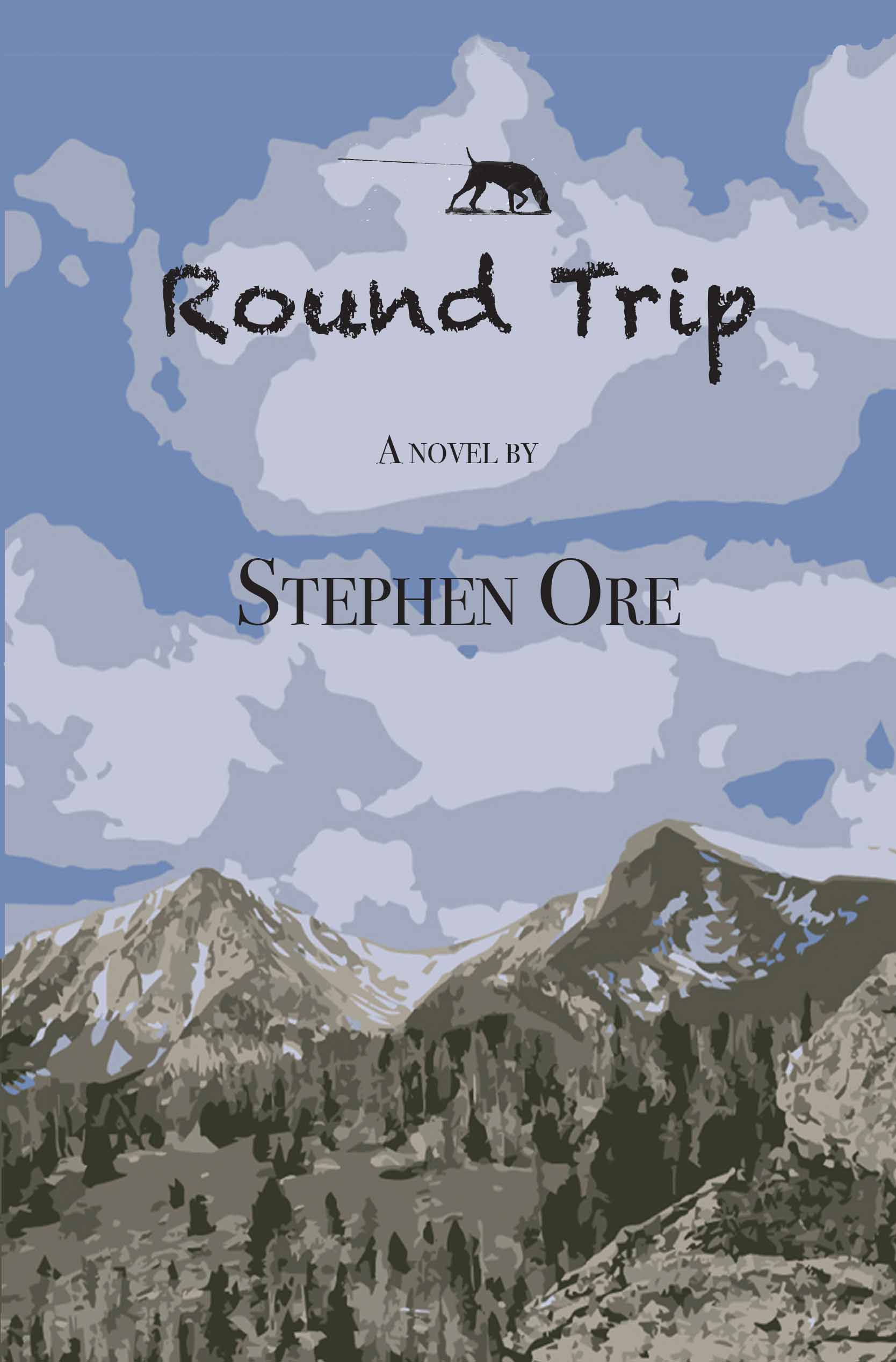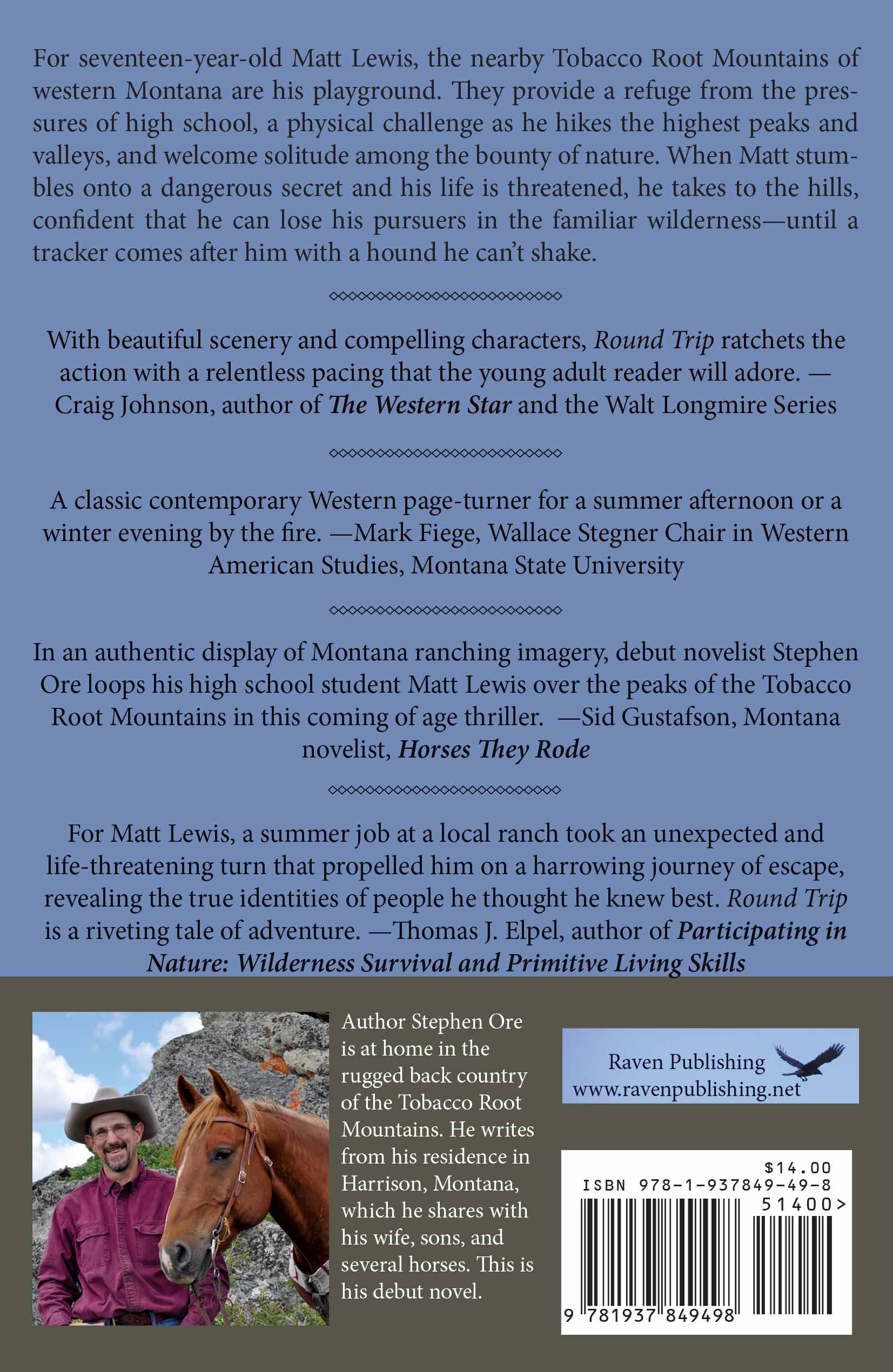 2018 ebook ISBN: 9781937849504
$5.99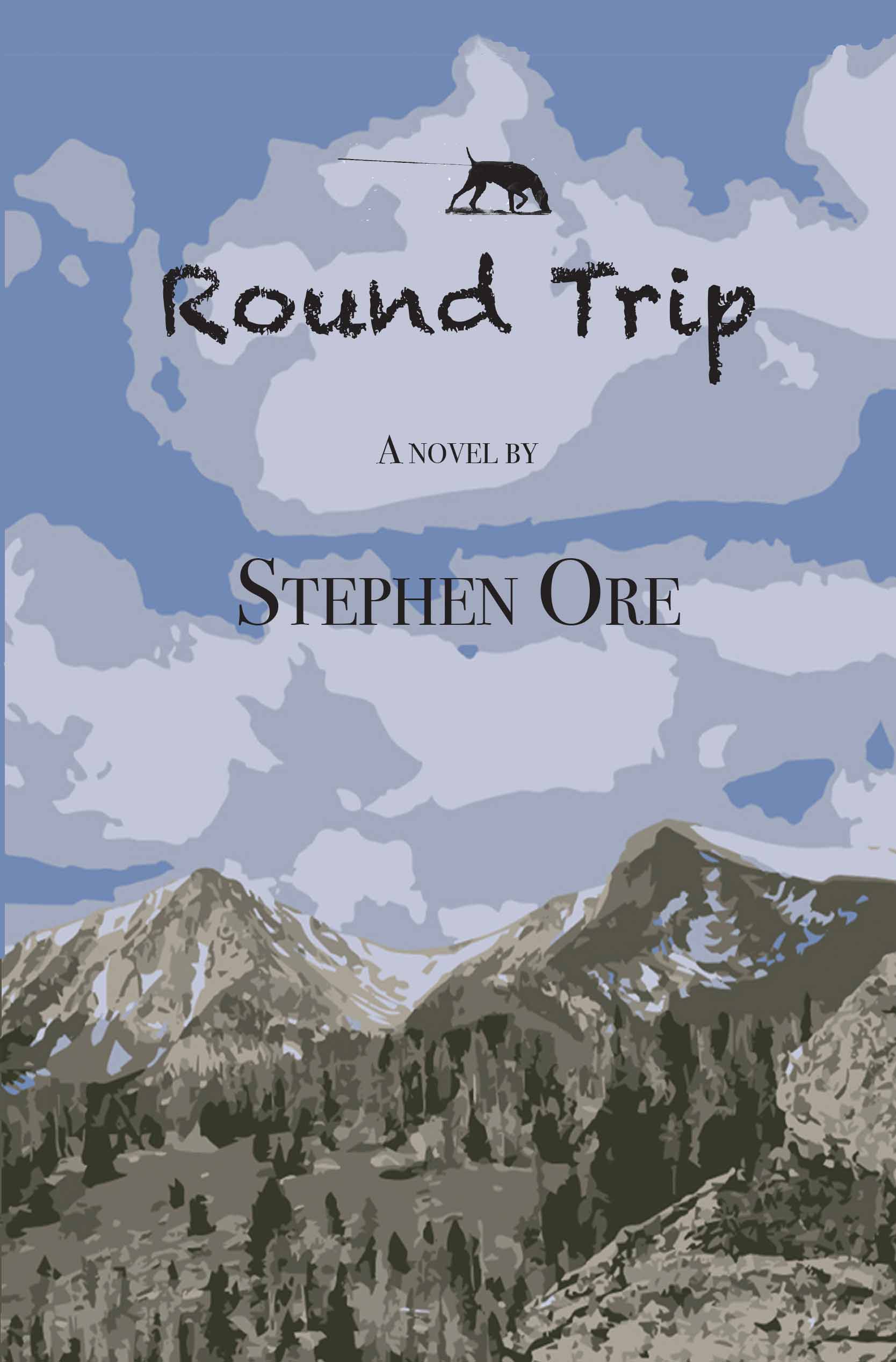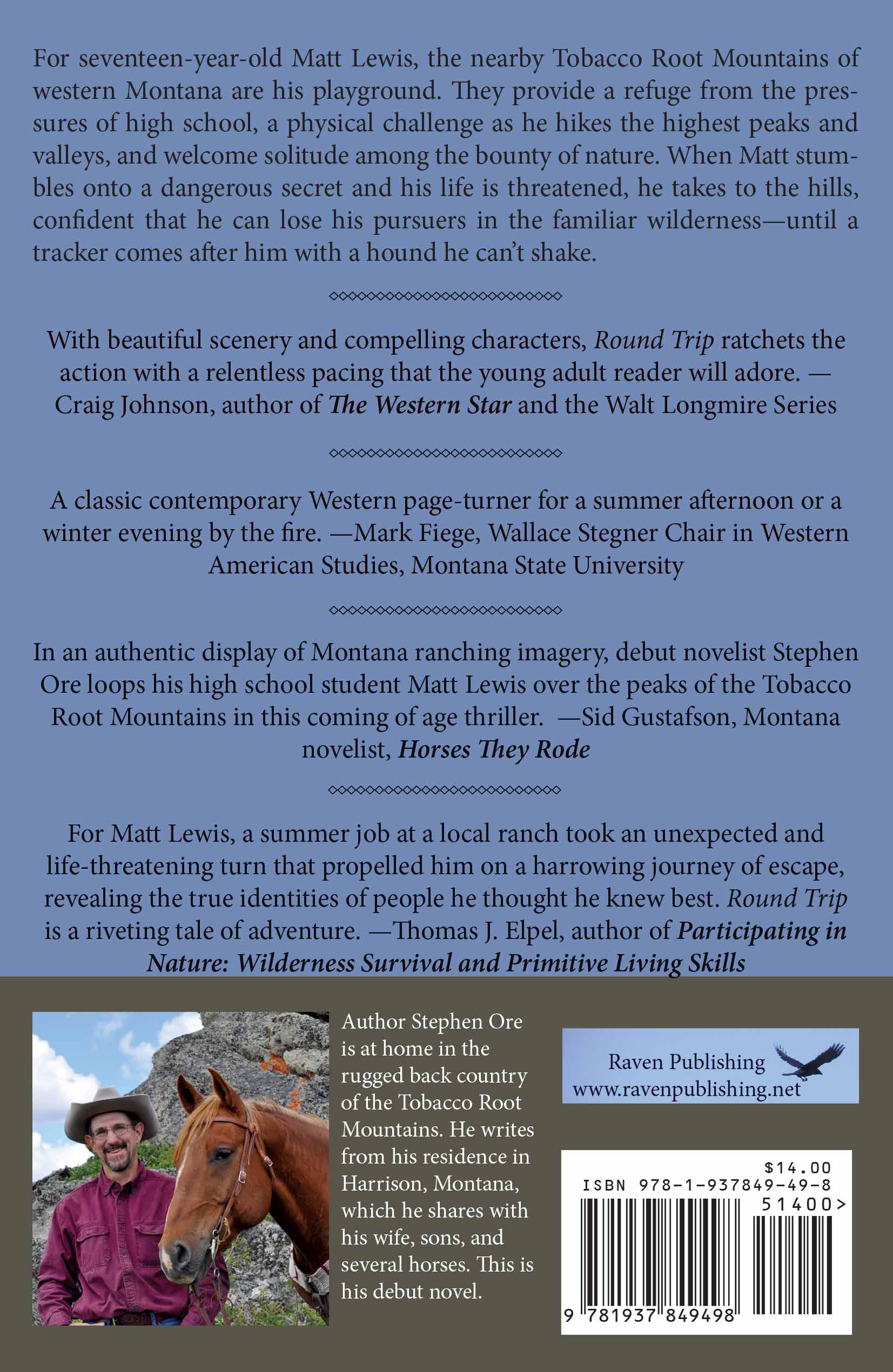 2018 Paperback 230 pages ISBN: 9781937849498
$14.00
Looking to get away? Maybe you don't have time to head into Montana's Tobacco Root Mountains, but you can follow seventeen-year-old Matt Lewis in Stephen Ore's debut novel, Round Trip. With beautiful scenery and compelling characters, Round Trip ratchets the action with relentless pacing that the young adult reader will adore.
Stephen Ore knows land and life in the Rocky Mountains. He knows the thrill of adventure on steep slopes and in pine forests. He knows people, especially young people. And he knows how to tell a story. A classic contemporary Western page-turner for a summer afternoon or a winter evening by the fire.
Any youth navigating the path to adulthood discovers that reality isn't quite as it seems, and adults are not always who they claim to be. For Matt Lewis, a summer job at a local ranch took an unexpected and life-threatening turn that propelled him on a harrowing journey of escape, revealing the true identities of people he thought he knew best. Round Trip is a riveting tale of adventure.
In an authentic display of Montana ranching imagery, debut novelist Stephen Ore loops his high school student, Matt Lewis, over the peaks of the Tobacco Root Mountains in this coming-of-age thriller. Montana ranching isn't what it used to be in the Pony, Montana, outback.
Montanan Stephen Ore tossed me into a gripping situation and landscape from page one of Round Trip, and this competent writing continued throughout the book. Third-person protagonist, Matt, became someone I wanted to know more about and for whom I had empathy. The wilderness Matt treks and knows so well, and the rigors of his summer-job ranch work are strongly presented. So, too, is his innocent, high-school infatuation with the ranch owner's wife, Pamela Pickett.
There is a powerful mystery element to Round Trip. Matt has suspicions about rancher Pickett, mostly because of Jim, the muscular, armed bodyguard who is always around. The one person Matt feels he can trust with his concerns is Bud, the ranch foreman.
Throughout all the gripping elements of Round Trip, Ore presents Matt's full character: his good relationship with his single-parent mom; his best friend, Joe, who is always trying to get him to date someone; Rachel, the someone Joe has in mind. Each character is well developed.
Ore's book Round Trip, is quite an adventure, one I'm certain many readers will appreciate.
Add a new voice to the list of Montana adventure writers who combine excellent description and knowledge of the mountain terrain of southwestern Montana with affecting characters and suspenseful stories. In Round Trip, author Stephen Ore creates a young protagonist whose competence and backcountry skills must save him from danger. Taking a summer job with a wealthy businessman and "hobby rancher" leads ranch hand Matt into a quagmire of criminal activity when he unwittingly discovers things he is not meant to know. Readers will admire Matt's insights and bravery, as well as wilderness knowledge. Can't help but hope for a sequel and more stories from Stephen Ore. Exciting reading for both young adults and adult adventure fans.
When teenager, Matt Lewis, begins his summer job on J. Pickett's ranch in Montana, he stumbles upon a secret causing his normal life to become a distant memory as his wild adventure ensues. Can a mere high-school boy match wits with an experienced mercenary whose job is to tie up loose ends? Will he have any allies in his quest for survival? Author, Stephen Ore, keeps you on the edge of your seat with his debut action-packed thriller, Round Trip.
Set in Montana's Tobacco Root Montains, Stephen Ore's debut novel takes readers into the heart and mind of an honest, adventureous and naive teenager as he runs for his life.

Matt Lewis spins summers working on J.P. Pickett's 'hobby farm,' earning money for college until he discovers a dangerous secret that leads him to suspect that his employer is a big-time drug dealer. When the Picketts realize Matt knows too much, they order their so-called personal assistant – a brawny, armed, former member of the army special forces – to eliminate the problem. Matt takes to the hills, confident that he can lose anyone in his rugged, familiar backcountry. His hope to escape plummets when he realizes a tracker with a hound is in hot pursuit.